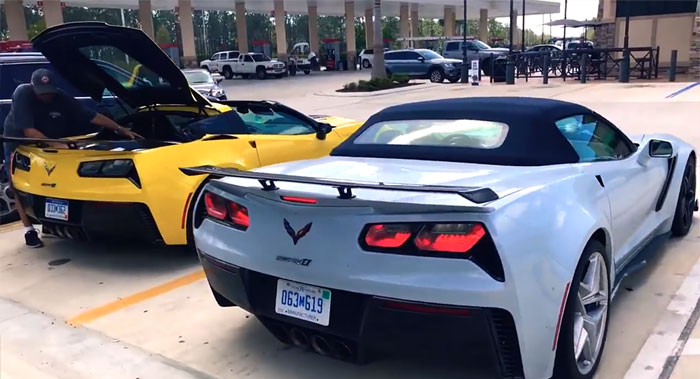 So earlier this week we got a video from a reader featuring three Corvette ZR1's running Alligator Alley in South Florida.
We came across this video showing the same three low-wing base ZR1s stopped at a gas station in Naples, Florida.
The video allows us to hear how the Corvette ZR1s sound at start-up and idle. Turn up your speakers as the rumble is very deep and pronounced when three 755-horsepower Corvettes are all idling before heading out.

The 2019 Corvette ZR1 features spring-loaded valves in the active exhaust system that gradually open up as more air flow comes through. Corvette Chief Engineer Tadge Juechter said that it produces a much smoother transition from quiet to loud as compared to the Z06's exhaust. It's a system so new that Chevy is trying to patent it.

Source:
Speedlist / Facebook

Related:
[VIDEO] 2019 Corvette ZR1 Convertible at the 2018 Chicago Auto Show
[VIDEO] 2019 Corvette ZR1s on South Florida's Alligator Alley
[VIDEO] The Corvette Experience Seminar at the 2018 Rolex 24 at Daytona