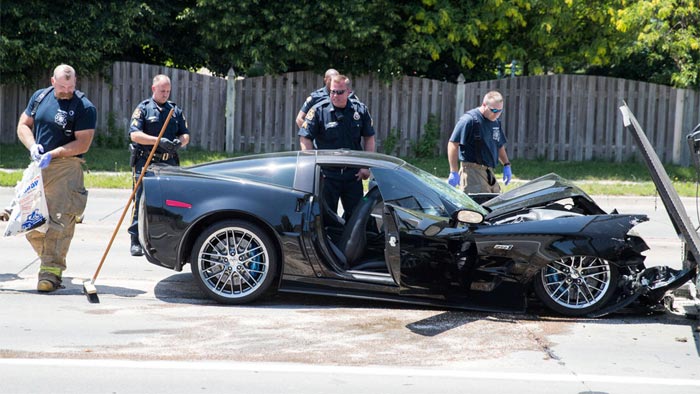 The law-abiding citizens of Omaha, Nebraska can only hope that a high-speed chase Friday afternoon finally ends the time behind the wheel for a reckless Corvette driver, at least temporarily.
The C6 ZR1 driver, identified as Shaheer Atiqullah, 21, of Omaha, faces multiple charges after a chase that reached speeds of 132 mph and ended in collisions with two other vehicles.
The chase started when Atiqullah – exiting I-680 to get onto the West Dodge Expressway – passed a trooper and then sped off to avoid arrest.
The first wreck came when Atiqullah pulled off the expressway at the 132nd Street exit, cresting a hill and hitting a van that was trying to turn left from a subdivision onto northbound 132nd Street.
The impact knocked the driver's side front wheel off the Corvette, which nevertheless continued north before finally crashing into the back of a lawn service trailer at 132nd and Blondo streets.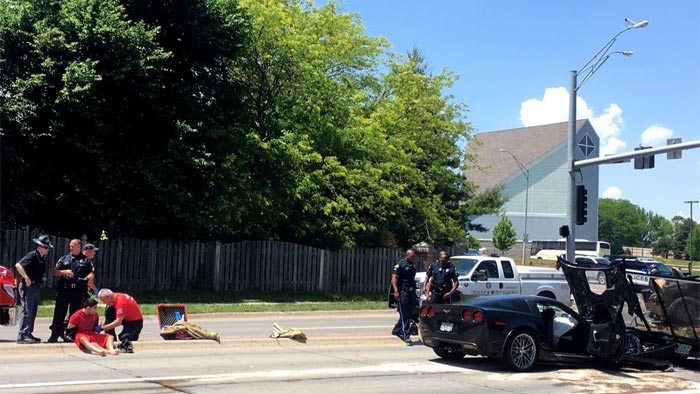 Authorities say the trailer probably saved the lives of Atiqullah and his two female passengers by absorbing the energy of the impact.
"Much like crumple zones on your car, it took the force of the impact out of it," said Sgt. Dan Klimek of the Nebraska State Patrol. "Everybody in that Corvette would have been dead."
Not to mention the innocent folks in the lawn service vehicle, who complained of stiff necks and backs after the crash.
"He was going fast," said Lucas Gappa, a 15-year-old who works for Nolan's Lawn Care and was in a pickup truck pulling the trailer with mowers aboard. "That trailer saved my life today."
Atiqullah and his two passengers (who won't be charged) were hospitalized with non-life-threatening injuries. He faces charges of suspicion of felony flight to avoid arrest, willful reckless driving, speeding, and driving with a suspended license, as well as charges on an earlier warrant issued April 21 for willful reckless driving, driving under suspension, and failure to appear in court. Court records also show Atiqullah had already pleaded guilty earlier this year to a misdemeanor charge of exhibition driving.
Strike 3 and you're out! Some people just don't have the sense and responsibility to drive a high-powered car like a Corvette. Let's hope this puts a stop to his senseless disregard for his safety and that of others in his community!
On Tuesday, the driver received four charges including a class 4 felony of operating a motor vehicle after a crash. Other charges include reckless driving, driving under suspension and failure to appear. His preliminary hearing will be held on July 7th.

Source:
omaha.com

Related:
Nashville Police Searching for Carjacker Who Shot the Owner of a C4 Corvette
[VIDEO] Arizona Murder Suspect Carjacks Corvette Before Being Shot Dead by Police
[ACCIDENT] Police Seek Driver of a Corvette in Three Car Crash