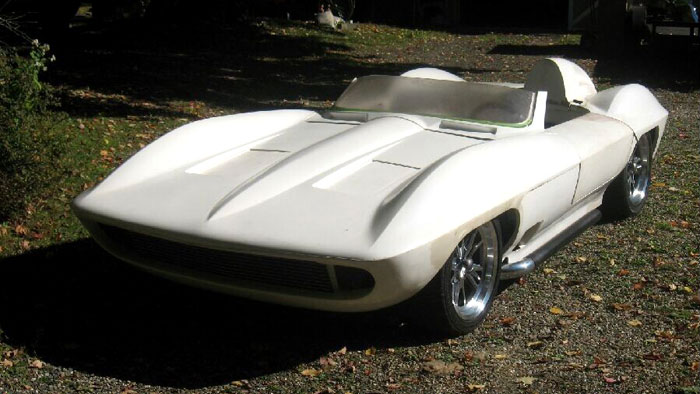 Legendary Corvette designers Bill Mitchell, Pete Brock, and Larry Shinoda combined to design the equally legendary Stingray racer concept car in 1959.
That car is now in the GM Design Studio collection.
But now you have a chance to own a visual facsimile of the Stingray racer at a much more reasonable "Buy It Now" price of $59,990 on eBay.
A little back history on how this rare Corvette take-off came to be, and then not to be.
Back in 1964, a fellow named Warren "Bud" Goodwin started the Fiberfab Company, which made fiberglass street rod parts and customized body panels for the hot new Mustang. Goodwin eventually branched out into full body kits, including one called the Centurion that would fit on a Corvette C1 or C2 chassis (1953-67).
Naturally, after Goodwin liked the Centurion so much, he couldn't resist racing it, where it drew the attention of GM lawyers for its uncanny resemblance to the original Stingray racer.

But before GM could sue Goodwin, Goodwin himself put an end to the company when he caught his wife in the arms of her lover, "accidentally" shot the other man, and was nevertheless found guilty of the slaying and sent off to prison. By the way, GM lawyers sued and did shut down production of the Centurion shortly afterwards.
But not before Goodwin had produced seven or eight of the Centurions, including apparently this one that's up for sale on eBay now.
The seller claims the car has an all new drivetrain, a new 350 Chevy engine that "runs great," and new wheels and tires.
If you'd like something different and most definitely unique to drive to the National Corvette Museum in the spring or just to your local cruise-in, this might be an option for you

UPDATE
The Centurion was a no-sale for this auction on eBay and since then we've heard from the seller directly who tells us he will be reposting the car back on ebay:
I own the Centurion you have on your eBay finds section. I am getting ready to repost it. I have done some more work to it. If anyone is interested in the car, make an offer! You can email the seller directly at [email protected].

Source:
eBay

Related:
Corvettes on eBay: 1962 Corvette with Rare Fiberfab Centurion Body
[PIC] Throwback Thursday: 1959 Corvette Stingray Racer with the 1956 Corvette SS
Let's Help Get Corvette Designer Peter Brock into the Corvette Hall of Fame