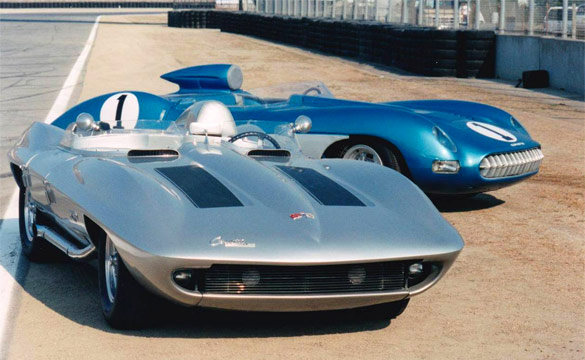 It's time for Throwback Thursday where we feature vintage photos of Corvettes. Today's selection has two Corvette concept racecars at the track in this group photo at the track.
In the foreground is the 1959 Corvette Stingray Racer. Bill Mitchell had the car built in secret to avoid conflicts with higher management over GM's racing ban. The original Stingray racer weighed just 2,200 pounds (1,000 pounds less than the 1960 production Corvette) and was equipped with a 283 V8 with fuel injection. Mitchell had the car raced and Dr. Dick Thompson won a SCCA Championship in 1960. Mitchell used to drive the car around town on the weekends, and once it retired from racing he had a passenger seat installed.
Behind the silver Stingray Racer is the 1956 Corvette SS. This car is all Duntov who believed that GM needed a purpose built racer to compete with Ferrari and Maserati at Sebring. Weighing just 1850 lbs, it was equipped with a 283 V8 with Ramjet fuel injection. Although it was clocked at over 183 mph and was very quick in testing, the car retired due to mechanical failures after only 23 laps in the 1957 12 Hours of Sebring.
Click here to see a larger version of these two Corvette racers.
Do you have any vintage Corvette pictures to share? Let us know!

Source:
Corvettes @ tumblr.com
Remarkable Corvettes
Related:
[PIC] Throwback Thursday: One Man's Trashed Corvette is Another Man's Treasure
[PIC] Throwback Thursday: 1963 Corvette Sting Ray Burnout
[PIC] Throwback Thursday: Sitting on the Back of Dad's 1966 Corvette
[PIC] Throwback Thursday: Beauties Parade at the Dragstrip
[PIC] Throwback Thursday: Motor Trend Tests the 1958 Corvette