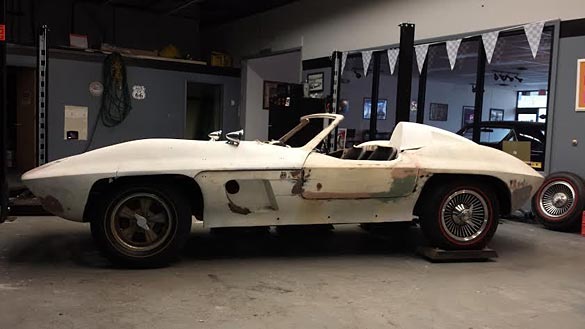 If you're looking for something a little unusual in the Corvette world, and you are handy with tools and know how to work with fiberglass, eBay may have your ideal car. It has a '62 Corvette frame, a 350 cubic inch motor and a Muncie three-speed transmission. The body is a Centurion made by Fiberfab and if the shape of the body looks familiar to you, it should—it is a copy of Bill Mitchell's 1959 Sting Ray racer.
The Fiberfab Company was founded in 1964 by Warren "Bud" Goodwin and started off making fiberglass street rod parts and customized body panels for the then-new Mustang. The company branched out into full body kits, with names such as the Aztec, Banshee and Jamaican, designed to fit on a number of chassis platforms. Included in the full body kit lineup was the Centurion designed to fit on a Corvette C1 or C2 chassis.
Bud completed the prototype Centurion and, being a race fan, he began racing it. Of course the publicity got back to General Motors who was none too happy about the pretty obvious copy of their Sting Ray. The General let loose the legal eagles to put a stop to the Centurion.
In the meantime, Bud had built seven bodies before his life sadly self-destructed. As the story goes, he found his wife and one of his employees in a compromising position and "accidently" shot her. The jury didn't buy the "accidental" part and sent Bud to prison. The company assets were sold and the GM attorneys made sure that no more Centurions would be built.
The photos of the car in the eBay ad clearly show that it is a project, but for someone who is handy it would certainly be unique transportation—it's not likely that another one will show up at the local cruise-in. The current bid as of June 24 is $26,949, which has not met the reserve. The car was previously on eBay and that auction ended in a no sale on May 3, 2014 with a high bid of $31,357.
The present auction ends on July 2, 2014 at 18:20:57 PDT. Check the ad photos carefully and if you have any questions, don't hesitate to contact the seller through eBay or call him at the number provided in the ad.

Source:
eBay

Related:
Corvettes on eBay: 1969 Corvette Survivor from the Gas Monkey Garage
Corvettes on eBay: Mail Order Baldwin Motion Phase III Corvette
Corvettes on eBay: Vintage 1964 Corvette Racecar