Attendees at next weekend's Amelia Island Concours d'Elegance in Florida will have the chance to see one of the most well-known Corvettes of all time. Mid America Motorworks will be showing off their famous 1968 Rebel L88 racer during their 20th anniversary show. 2015 will mark the first time that The Rebel L88 has been displayed at Amelia Island.
The Rebel's racing career began in 1972. It was converted from a street car to race car in just 8 weeks. From there it would go on to become one of the most successful racing Corvettes of all time. It would end up finishing 7th in the GTS class and 15th overall at the 24 Hours of LeMans race in France. The Rebel L88 placed 7th in class GTS and 15th overall at LeMans. Later successes included a third place run in the 1973 24 Hours of Daytona and a pole position for the 12 Hours of Sebring. David Heinz and Bob Johnson piloted The Rebel which had come to be known as "Ole Scrappy".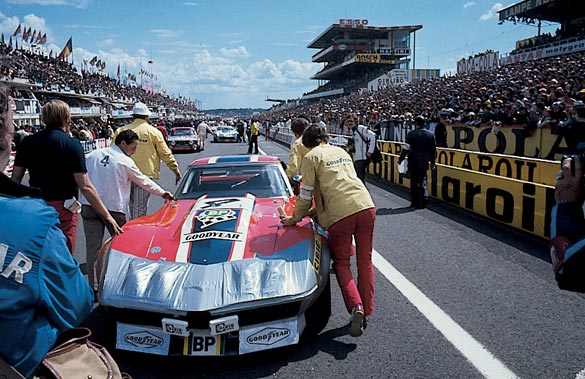 Mike Yager of Mid America Motorworks purchased The Rebel in 1997 and later sent it off to Kevin Mackay's Corvette Repair in New York for a comprehensive restoration. The restoration uncovered a number of unique parts that were installed on the car for LeMans. Some of the special bits included a brake master cylinder off of a Chevy Nova and a horn button and steering wheel from a Chevy Vega GT. Several items borrowed from marine applications were found as well. Some of these items included an oil pressure fitting for the valve cover, fuse holders, and toggle switches.
You can see The L88 Rebel LeMans Corvette at the 2015 Amelia Island Concours d'Elegance Sunday, March 15 in sunny Florida. For more information you can visit www.ameliaconcours.org or give them a call at 904-636-0027.

Source:
Mid America Motorworks

Related:
[PICS] The Corvette Racers of the 2014 Muscle Car and Corvette Nationals
Corvette Repair's Kevin Mackay Shows Off His See-Thru Corvettes
Highly Decorated 1969 L88 Corvette Heading to Amelia Island Auction