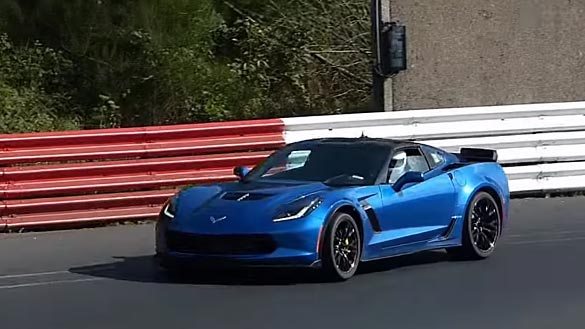 Team Corvette has a Nurburgring problem.
After testing the new Corvette Z06 at the famous 12.9 mile track in Germany last year, circumstances which include a crash and rainy weather stopped the team from laying down a complete timed lap. Instead of staying in Germany and making it a priority, the team left town and that has ceded the conversation to others.
In the age of the internet and the bench racing that goes on daily on the forums, blogs and social media, a timed lap around the Nurburgring for a car that has shattered expectations like the corvette Z06 is expected. No, it's required. Corvette's Chief Engineer Tadge Juechter can argue until he is blue in the face that it's not a priority, but for Corvette owners, enthusiasts and fanboys (as well as Chevy PR), it is part of the lore of Corvette that is now missing from the conversation. And it's not just the Z06's time. The C7 Corvette Stingray has been there two years in a row now and we still don't have a time for it either.
So instead of having a video to share and talking about the official lap time, the Corvette Team has left a void in the conversation and in its place is speculation, rumors and innuendo.
Tadge says the Corvette Z06 ran a 2:41.3 at VIR and to "Do The Math" to figure out what a Nurburgring time might be. Some Corvette enthusiasts did the math, which is all well and good, but it's not an official time.
Now we have another site claiming video evidence of what would be a historic run of 6:59.13 around the ring. HorsepowerKings is claiming that a Corvette Z06 equipped with the Z07 Performance Package and the 8-Speed Automatic ran the 'ring in under 7 minutes. They even have a graphic of a Blue Corvette Z06 which looks similar to the Laguna Blue backup car that Chevrolet also tested with last fall:
A sub-seven minute lap would be an amazing time and would most likely cement the Corvette Z06's place in history as only two other production-based cars have done the Nurburgring in under 7 minutes, the Porsche 918 and the McLaren P1.
Jalopnik asked Tadge about the sub-seven minute ring time and he claims that the story is "not accurate".
HorsepowerKings has an embedded youtube video in their story but its been blocked for a copyright claim. In the story, they claim that "more (official) information to be released in the coming weeks". We say if you got it, release it.
Because there is no official time from Team Corvette, you are going to see more "click bait" hackery and false claims and it's only going to get worse the longer its allowed to go on. Not only that, but expectations are so high that despite whatever time the Z06 can do, people will remember the non-official times. The Corvette ZR1's last Nurburgring time was a 7:19.64. Say the Corvette Z06 is faster by 5 seconds to lay down a 7:14 time. That's a really fast time around the Nurburgring, but it's also disappointing because all you will remember is the speculation, rumors and innuendo of a sports car that is supposed to be faster than that.
Update:
Check out this from Yahoo Motors' Alex Lloyd who breaks down some of recent questionable stories featured on HorsepowerKings.

Source:
HorsepowerKings.com via MotorAuthority.com

Related:
[POLL] What Will the Corvette Z06′s Nurburgring Time Be?
[VIDEO] More Sounds of the 2015 Corvette Z06 at the Nurburgring
[VIDEO] Another Look at the 2015 Corvette Z06 at the Nurburgring
[VIDEO] 2015 Corvette Z06 Spotted Testing at the Nurburgring; Update: Did it Crash During Testing?