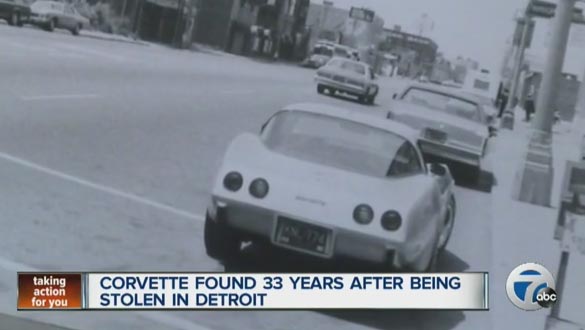 For all you unfortunate folks out there who have had their Corvettes stolen over the years, never to see your pride and joy again, don't give up hope.
You see, George Talley of Detroit, Michigan, offers up a reason to look at the glass as half full.
His 1979 Corvette was parked on Jefferson Avenue 33 years ago when someone swiped it.
"I made a police report," he told a WXYZ-TV reporter, "and I haven't seen it since July of 1981."
That's about to change, though.
George just got a call from AAA telling him to come pick up his Corvette.
Seems a dubious VIN helped authorities figure out that the Corvette actually belonged to George.
"I was sitting at home last Friday looking at Judge Mathis, and I get a call from AAA telling me you have a Corvette in Mississippi, come and get it. And, uh… I said, 'what?'"
Apparently the car has been taken care of over the years.
"I've heard it was running, it had 47,000 miles on it, and right now, it's at the police station in Hattiesburg," George said.
The car appears to have a two-tone paint job similar to a '78 Silver Anniversary, but with a stinger hood. Based on photos, the interior could also use a little work, with the seats worn down to the foam.
Still, it's a miracle the car will be returned to its rightful owner after 33 years!
At first, George wasn't sure if he would have the car shipped to Detroit, or if he would just go pick it up on a road trip with friends.
Then GM's Mark Reuss, Executive Vice President, Global Product Development, Purchasing and Supply Chain, stepped into the picture just this morning, offering the services of General Motors to bring the car back to its rightful owner.
The offer came during The Paul W. Smith show on News/Talk 760 AM WJR radio.
"It's a lucky day. When I get that car here in that driveway, we'll go from there," said George, before learning of the offer.

Source:
WXYZ.com

Related:
A Stolen C6 Corvette Crashes Into a Cell Phone Store in St.Louis
A 1968 Corvette Stolen a Decade Ago Found in Aussie Shipping Container
Stolen Corvette and Camaro Recovered in Arkansas