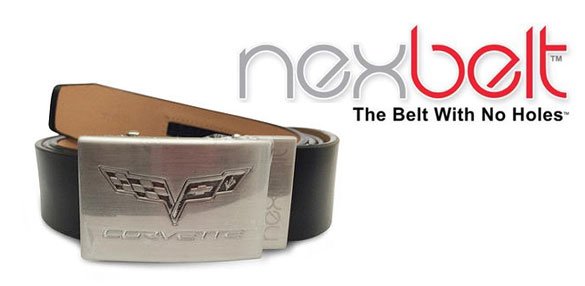 Corvettes are for us, more than just a car. They are a way of life.
Like many enthusiasts, my wardrobe is overwhelmingly made up of Corvette t-shirts, hats and anything else that sports a Chevy bowtie or crossed flags.
And now I can add a new brushed nickel C6 belt from Nexbelt.com.
First of all, if you don't know about Nexbelt's innovative one-size-fits-all system, it's pretty ingenious.
When you receive your belt, it is sized up to 50 inches and you match the length of the belt to your pant size. On the back of the belt, there are guidelines for the pant sizes, but I also held up one of my other belts just for confirmation before cutting.
The buckle contains a lever and disengaging it allows the belt to slip free. Simply measure, cut and then reinsert the cut end back into the buckle and your done.
What I like about this belt is that it has a ratchet system instead of the traditional staggered holes. So it can be as tight or loose as you like.
Nexbelt offers the C6 Crossed Flags belt in both black and brushed nickel. Check out their store as they also have belts featuring the Chevrolet bow-tie logo, a Camaro design and a really great looking carbon fiber buckle. The belts are listed at $49.99 and make a great gift because there's no measuring needed!

Source:
Nexbelt.com

Related:
GM Announces New Premiere Edition with Lime Rock Green Corvette Stingray Convertible
Give Dad "The Quest" Corvette Documentary DVD for Father's Day