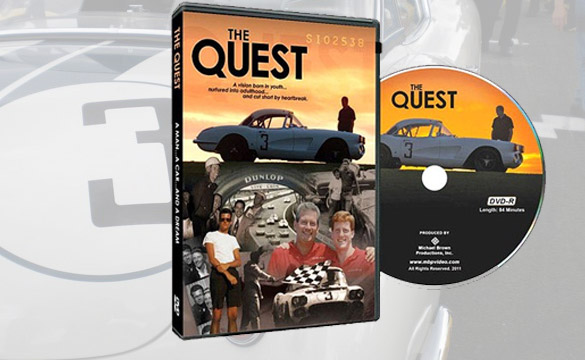 Looking for that perfect gift for the Dad that's into Corvettes? You cannot go wrong with The Quest Corvette Documentary on DVD. Centered around the three Corvettes that first raced at the 24 Hours of Le Mans, "The Quest" also tells the story of a young man and his relationship with his father and how the son sets out to fulfill his Dad's dream.
Since its arrival on DVD, "The Quest" Corvette documentary has been one of our favorite "Corvette gifts" around the holidays and it's the perfect gift for the Father's Day.
"The Quest" starts off by telling the story of Briggs Cunningham, the man that brought the first Corvettes to France to race at the 24 Hours of Le Mans. Cunningham, his drivers and even Corvette legend Zora Arkus-Duntov are shown in the archival video from the race. The #3 Corvette from Briggs Cunningham won its class and finished 8th overall. No small feat for the American team and to this date it ranks as one Corvette's greatest racing achivements.
But once those three Corvettes were sent back to America, instead of continuing to race the cars, Cunningham had them converted back to street form and they were sold off. As the year's passed, the Corvettes historic racing history was forgotten and their whereabouts unknown until a man named Chip Miller began the search to find the Corvette that first won at Le Mans.
Miller was a renowned collector of Corvettes and one of the founders of "Corvettes at Carlile", one of the largest Corvette events in the country. Miller set out to find and acquire the #3 class-winning 1960 Corvette… with a dream of restoring it and taking it back to Le Mans for the 50th Anniversary of that 1960 race in 2010 along with John Fitch, one of its original drivers.
Within only a few years of completing his dream, Chip Miller died from an extremely rare disease called amyloidosis in 2004. But his son Lance fulfilled his father's quest and took the car and its driver back to Le Mans in June of 2010…marking 50 years of Corvette Racing at Le Mans.
"The Quest" is a heart-warming story of visions cut short, obstacles to success and a son's love of his father. The documentary has something for everyone, whether your Dad is a hard core car enthusiast or someone who just loves a good story, "The Quest" will certainly not disappoint.
You can purchase "The Quest" on DVD for $20 at The Quest Documentary. It's also available from our friends at CorvetteCentral.com.

Source:
The Quest Documentary

Related:
Give the Gift of Corvette Artwork from Scott Teeters' Illustrated Corvette Series
[VIDEO] A Tribute to John Fitch
[PICS] The #1 1960 Briggs Cunningham Le Mans Corvette Revealed at Corvettes at Carlisle