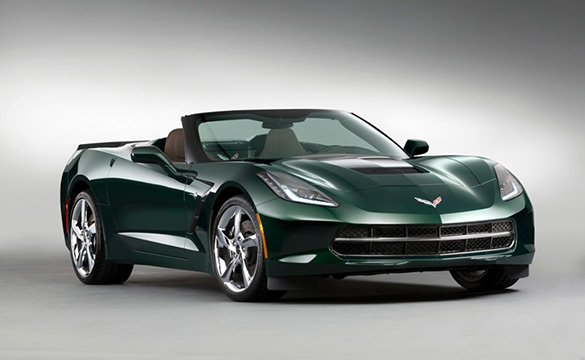 It was back in September that we learned that Chevrolet would be building a "Premiere Edition" Corvette Stingray Convertible to compliment the 500 Premiere Edition Coupes that were announced in June. Now, Chevy has officially announced the limited edition model and surprise, they are mixing things up a bit for the drop top.
Like the Coupe, the Corvette Stingray Premiere Edition Convertible is a top of the line 3LT with the Z51 performance package, variable tuned performance exhaust system and Magnetic Selective Ride Control. The Stingray Convertible is also outfitted with suede leather trim, carbon fiber accents, unique Stingray logo sill plates and the five-piece luggage branded with the Corvette logo.
Unlike the Coupe that was Laguna Blue, the Premiere Edition Corvette Stingray Convertibles are Lime Rock Green with the Brownstone interior. We are also unable to determine whether or not the Convertible has the Black Stinger hood graphic or if the hood is left untouched.
The Premiere Edition Corvette Stingray Convertible has an MSRP of $77,450 and there will only be 550 made. The special model has its own unique VIN sequence number and interior dash plaque.
Here are the pictures GM released on Tuesday showing the new Premiere Edition Corvette Stingray Convertible:
Click here to watch the video of the unveiling of the 2014 Corvette Stingray Premiere Edition Coupes from the NCM in June.
GM released the information about the Premiere Edition Stingray Convertible as part of a Corvette Gift Ideas for 2013. Some of the other ideas for pleasing the Corvette enthusiast on your shopping list also include:
Finally, for those looking to enjoy the exceptional driving experience of the Stingray first hand:
Performance Drive Schools – Learn to drive with the speed, confidence and finesse of a professional road racing driver at one of two performance drive schools – Ron Fellows Performance Driving School (prices begin at $2,995 for a two-day school) or the Bob Bondurant School of Performance Driving (prices starting at $1,225 for a 1-3 day course).

Source:
General Motors

Related:
Chevrolet to Build 500 Corvette Stingray Premiere Edition Convertibles
[VIDEO] The Reveal of the 2014 Corvette Stingray Premiere Edition at the Corvette Museum
Chevrolet Reveals the 2014 Corvette Stingray Premiere Edition