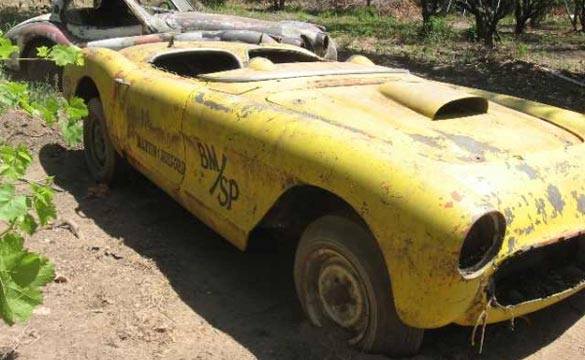 Mystery continues to surround this 1957 Corvette drag car that was found covered by vines and other plant growth, barely visible in a field located in an undisclosed state, definitely a long way from its heyday as a racer.
Mike C. tells BarnFinds.com that a friend found the car and is trying to unearth as much information about it as he can to help in its restoration. Who knows? Some might even suggest that the car should be left just as it is, a living, breathing time machine of a vehicle.
Mike and his friend do have a few clues. The markings on the side indicate the Corvette was an NHRA racer in the 1960s. According to the BM/SP designation, we also know that this class ran from the mid-'60s to the late '60s and included modified sports cars with an engine size to weight ratio of 7.5 to 9.99 pounds per cubic inch. Some have speculated that Martin & Hulford may have been the team or the drivers who raced the car.
At least one man has already responded on the Web claiming that he may have owned the car from 1965-68. "I am the one who painted it orange," he writes. "It left my garage in that color. It ran a 283 in 65, a 327 in 64 and again in 1967-8. Unless there were two of them…which by the way DOES happen! Someone sees the car and replicates the design elsewhere. Again may NOT be the same car but as it looks in your pictures it brought back immediate memories!! I bought it stripped like in those photos."
Perhaps someone out there knows the real story of this historic treasure and can offer details about how it was originally equipped and then modified. We wonder if the car ever won any races or set any records?

Source:
BarnFinds.com via CorvetteOnline.com

Related:
1963 Split-Window Corvette Barn Find Covered in 33 Years of Dust
Corvettes on eBay: 1961 Corvette is a True Barn Find
Wasting Away: 1963 Corvette Split Window Coupe