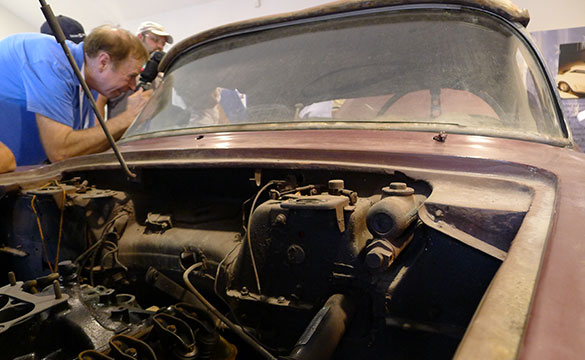 The saga surrounding the #1 Briggs Cunningham Corvette that raced at the 1960 24 Hours of Le Mans took another surprising turn over the weekend after its planned public unveiling Friday at Corvettes at Carlisle was abruptly canceled due to undisclosed security concerns. We have now learned that a Florida resident is claiming that the Corvette belonged to his father and says it was stolen from their backyard in 1976.
Several documents have been emailed to websites that have carried news of the former Le Mans race car's finding (including CorvetteBlogger.com). The first document contained an overview of his claim that his father was the one who customized the Corvette and then raced it at drag strips in the Tampa Bay area.
Dan Mathis Jr. says the 1960 Corvette was purchased by his father, Dan Mathis Sr., from Jerry Porter for $700. Mathis Jr. says it was his father that customized the Corvette, giving it the custom body and paint that he says the car still retains today. According to the document, Mathis Jr. claims the vehicle was "KIDNAPPED" and hid away, with Mathis Sr. never seeing the car again. Dan Mathis Sr passed away in 1993.
There was no contact information provided in the first document that was emailed us, but the sender was a gmail account listed as "Mathis Group". We replied back to the email with several questions including if Mathis was in possession of documents that showed ownership, a filed police report and pictures with Mr. Mathis Sr with the Corvette. A short reply from an unidentified person said that documentation was available, the police report was being searched for and yes, there are photos of the car.
Mathis Jr. told Jerry Garrett on Garrett On The Road that he "can show a continuous chain of title in our family since 1974." Mr. Mathis provided Garrett with a Certificate of Title from the State of Florida and you can view it here.
In the second document we received on Sunday morning, (from a different sender with no contact info other than a gmail address), the writer claims that Dan Mathis Jr only wanted to be reunited with his father's Corvette. Dan Mathis, Jr was quoted as saying, "when I saw the pictures of my father' s car on the internet, it stirred up so many emotions. I want to see the car again, touch it, sit in it again, to sit snd [sic] talk my father again in heaven."
The document claims that both Miller and Mackay were notified that there was an owner of record in Florida and that the case is now being investigated by police:
Lance Miller and Kevin Mackay were previously contacted by sources inquiring about the true ownership of the car, inquiring about the title for the car, and inquiring the previous transactions involving the car. They were also informed that there was an owner of record in Florida. After learning this new information, Lance and Kevin opted not to take
the reasonable and prudent route to legitimize this famous car. Instead they took route of deception and theft. The Carlise [sic], PA Police department, Pennsylvania State Police Dectectives [sic] and The District Attorney all were involved at the home and Lance Miller's mother where the private showing of the car took place. Anonymous sources confirmed that the vehicle was being held and hidden from the police in the same garage while the police investigated and threatened search warrants and closure and the Corvettes at Carlise [sic] vent [sic] that was taking place at the fairgrounds.

The investgation [sic] concluded with a erroneous story being to that the corvette was no longer on the premises.

This case is currently being reviewed by state and federal law enforcement officials for identification of suspects and levels of criminal prosecution.
A picture of police outside Lance Miller's mother's home where the 1960 Corvette was last seen was included in the document:
We asked Lance Miller about the allegations from Mathis Jr. on Saturday morning. He said he could not comment on the matter specifically and that it's now being handled by attorneys.
Mathis Jr. told Jerry Garrett he was a former law enforcement officer. A name search shows that a Dan Mathis Jr. served various Florida county sheriff departments from 1991-2007 where he is listed as having retired in good standing from the Hillsborough County Sheriffs office. A further search also showed that he was arrested in October 2010 and charged with Fraudulent Use of Personal ID Info. Jerry Garrett asked if that was indeed Mathis and he replied "Yes…First and only, and was thrown out by the State."
Make sure you check back with CorvetteBlogger.com as we'll continue to follow this story as it unfolds. In the meantime, check out Jerry Garrett's excellent posts regarding the 1960 Briggs Cunningham Corvette here and here.

Sources:
Garrett On The Road
Mathis Document #1
Mathis Document #2
Related:
Public Reveal for the #1 1960 Briggs Cunningham Corvette Canceled Due to Undisclosed Security Concerns
[PICS] The #1 1960 Briggs Cunningham Le Mans Corvette Revealed at Corvettes at Carlisle
No. 1 Briggs Cunningham 1960 Le Mans Corvette Racer Found
The Quest Documentary is Now Available on DVD