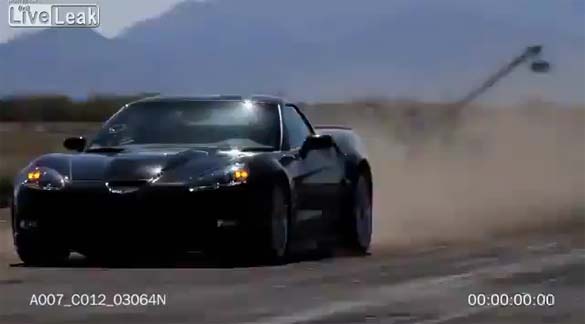 You may have heard about and seen the Top Gear chopper that was captured as it lost control and crashed into the dirt on a timely video shot by a man in Coolidge, Ariz.
What you may not have seen is additional footage that has just surfaced on YouTube that actually shows the speeding Corvette being filmed by the helicopter for a stunt on the popular TV show, then gives an in-copter view of what the crash looked like to the two pilots and shows onlookers rushing to check on the pair.
From the air, you can watch the copter veer off from the C6 Corvette, see dust fly in the air as it hits the ground, and then see the wreckage of the upside down chopper with pieces scattered around it..
The original on-ground video was made by Steve Esparza, a local resident who was shooting with his small camera when the unimaginable happened right in front of him.
"My heart was pounding, and I knew I was going to witness something, and I just followed it with the camera," he told a KSAZ Fox 10 news crew. "All the emotions and senses, the propellers were pretty close to us. And when that machine takes off, and you're far away, it's beating you up on the ground. But when it screams by you and it hits the air, it's indescribable."
Esparza turned off his camera after the crash, not wanting to film the horror he thought he was about to see.
Miraculously, both pilots survived, with one even reaching to turn off the chopper's motor.
Coolidge Police Chief Joe Brugman said the pilots were strapped in tight with harnesses and helmets, and he credited the rigid air frame with doing a good job of protecting the occupants.
The retired U.S. military helicopter, an AH1 Cobra, was filming a speeding Corvette for the Korean version of Top Gear at Coolidge Airport on March 1 when the pilot lost control at about 60m altitude.
Both pilots, from the Army Aviation Heritage Foundation, were treated by paramedics at the scene and were able to walk away from the accident.

Source:
My Fox Phoenix
Related:
[VIDEO] The Stig Sets New Top Gear USA Lap Record in Hennessey-tuned Corvette ZR1
Corvette ZR1 Featured in ABC's Charlie's Angels Premiere
Clarkson Selects Corvette ZR1 as his Car of the Year