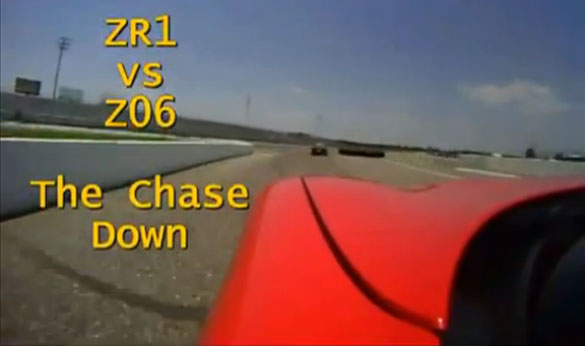 Watch this C5 Z06 take on a C6 ZR1 and hold its own.
This video – taken at the National Auto Sport Association's Hunka Hunka Burnin' Rubber at Memphis International Raceway in July 2011 and found on Pfadt Race Engineering's Facebook page – features a matchup between those two vehicles.
The result shows that a little driving skill can sometimes match up with big horsepower.
Bret Butler of Jackson, Tennessee, owns this 2002 Z06 and competes in the NASA Time Trial TTA class. The car has only a few modifications, including a custom air intake, an ATI balancer, and a Borla Stinger exhaust. The brakes have been upgraded with Napa Ultra High Performance rotors and Carbotech pads, and also added were a Corbeau five-point harness seat, a B&M ripper shifter, and Nitto NT-01 tires.
Not exactly the kind of additions that would make you think a ZR1 would be scared, huh?
Especially when you consider Butler hasn't even modified the suspension because of the class he competes in, despite the fact he's sponsored by Pfadt. (He does have a Pfadt Race Engineering banner on his car, though!)
So how can Butler's Z06 stay on the track with a ZR1? Apparently, it's his extensive driver training that makes a big difference in the competition with the mightiest Corvette of all. He's received a NASA High Performance drivers education and is a certified NASA driving instructor. In other words, he's learned to use the most important modification of all – his brain – and has the know-how to handle pretty much any obstacle thrown in front of him on a track, including a ZR1.
Watch this video, and you'll wonder if you should spend your money on performance mods or driver training.
We wonder with his impressive skills just what Butler could do in a ZR1!

Source:
Pfadt Racing on Facebook via Corvette Online
Related:
[VIDEO] Matt Farah Learns to Drift a Corvette at Bondurant
[VIDEO] Corvette Crashes During Autocross Event
[VIDEO] How to Turn Your C6 Corvette into a Track Weapon