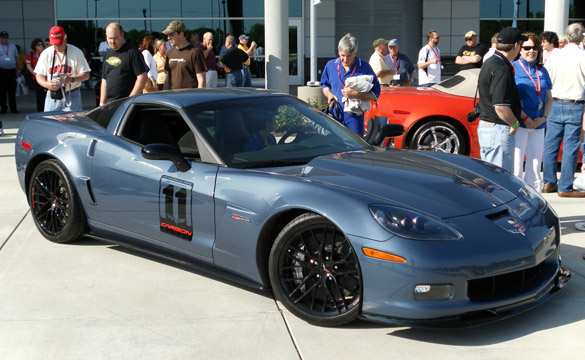 Finally, we have some exciting news regarding the 2011 Corvette Z06 Carbon Edition! Every couple of months since 2011 Corvette production started, I've been firing off emails to assorted Corvette team members asking about the start of production for the Carbon Edition and how much will it cost. Today we learned that production is expected to start sometime in early 1st Quarter 2011. And the price? Corvette's Product Marketing Manager Harlan Charles tells us the 2011 Corvette Z06 will MSRP at $90,960 and if you select all the option boxes, a loaded 2011 Z06 Carbon Edition will sell for $99,925.
It was back in March at Sebring that Chevy first pulled back the curtain to unveil the 2011 Corvette Z06 Carbon Edition. Representing track-to-street technology transfer as well as an answer to calls from customers to offer a Z06 complete with ZR1 brakes, Magnetic Ride Control and additional carbon fiber panels, the Z06 Carbon Edition is to be the most trackable Corvette offered to date.
The Z06 Carbon Edition features the Brembo carbon ceramic brakes with dark gray metallic calipers and black 20-spoke 19-inch front/20-inch rear wheels rolling on Michelin PS2 tires. Magnetic Selective Ride Control is offered for the first time on the Z06 as well as enhanced cooling.
Exterior enhancements include choice of color, Inferno Orange or Supersonic Blue, as well as Black headlamps and mirrors, a ZR1-style body color spoiler, body color door handles, carbon fiber raised hood, and black carbon fiber rockers and splitter.
Inside you'll find an ebony and suede interior with blue or orange stitching. The use of suede is pervasive throughout the Carbon Edition and in addition to the seating surfaces, you'll find it on the steering wheel, shifter, armrests and doors.
Initial production was to start in late summer of 2010, then it was pushed back to November 2010 and now January/February 2011. As the Corvette Museum announced last week the plan to raffle the #003 Corvette Z06 Carbon Edition on January 13, 2011, we feel pretty confident that Corvette enthusiasts will finally be able to get their hands on one of the most unique limited edition Corvettes ever offered.

Related:
Introducing the 2011 Corvette Z06 Carbon Limited Edition
[PICS] First Look: The 2011 Corvette Z06 Carbon Limited Edition
[VIDEO] 2011 Corvette Z06 Carbon Limited Edition Walk Around