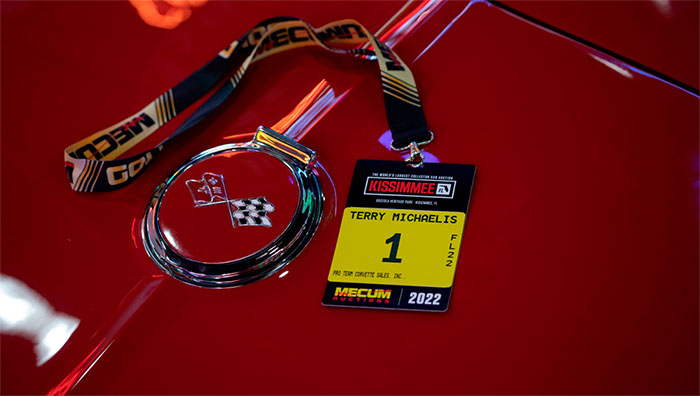 Photo Credit: Mecum Auctions

Some of the biggest money auctions we've seen from Mecum over the years have been their charity auctions that raise money for a host of great causes. One unique charity auction from this past May raised over $200K for a children's cancer organization and now another powerhouse bidder in the auction world wants to continue the trend.
Mecum's group of single-digit bigger badges are among the most passionate buyers and sellers of vehicles with some of these bidders being a part of the Mecum extravaganza before it became the huge production we watch on TV these days.
It was back in May at Dana Mecum's Original Spring Classic in Indianapolis that Mecum's Bidder Badge No.2 held by the late Paul Jones was offered. The auction raised $234,000 with the proceeds benefiting Curing Kids Cancer.
Now Terry Michaelis, owner of the world-famous ProTeam Corvette Sales in Napoleon, Ohio is offering his Mecum Bidder Badge #1 for auction at Kissimmee with Curing Kids Cancer once again named as the beneficiary for the proceeds. Terry has supported the Curing Kids Cancer organization since 2011, getting behind the organization as soon as he learned of its story and mission in the earliest days of its partnership with Mecum.

Michaelis says he has seen some impressive charity offerings garner a lot of attention in the past, but he was truly blown away by the response received by Bidder Badge No. 2. Michaelis said he found the sale to be so inspirational that it made him want to offer his own Bidder Badge No. 1 with the hope that it would create just as much of a stir as Badge No. 2 and ultimately bring in even more funding for the Curing Kids Cancer mission.
The lucky winner of Badge No. 1 will not only inherit limitless bragging rights, but they'll also receive complimentary lifetime Gold Charter membership with Mecum, along with the fulfillment that comes from contributing to a cause as honorable as Curing Kids Cancer.
The Bidder Badge No.1 can be found as Lot# F153 and its auction will take place on Friday, January 14th.

Source:
Mecum Auctions

Related:
Corvette Auction Preview: The C2 Corvette Z06s at Mecum Kissimmee 2022
Four More Corvettes to Make You Drool at Mecum Kissimmee 2022
[VIDEO] Watch the Yellow 1967 Corvette L88 Sell for $2.65 Million at Mecum's Glendale Auction