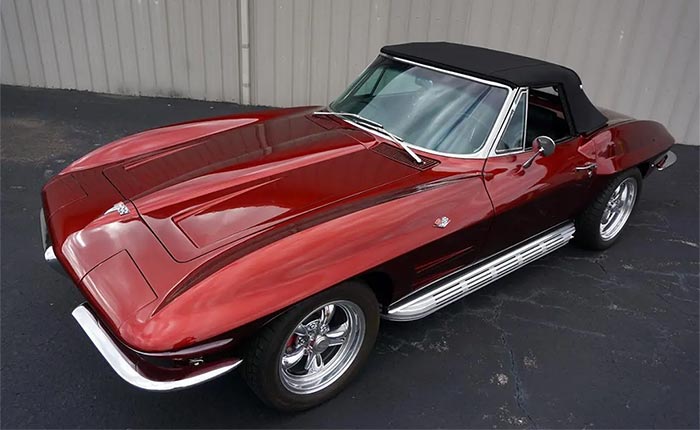 In the past, we've shown you some Corvettes that would have to be carted off on a trailer because of their poor condition.
The only reason to cart off this 1964 Sting Ray being auctioned off on Bring a Trailer, on the other hand, would be out of respect for its currently immaculate condition.
Indeed, there's not much left for the new owner to do except sign the title, add a license plate and possibly a stereo system, and drive off into the sunset (or maybe trailer it to the next car show).

The seller had this convertible totally restored during a body-off restoration by Paragon Corvette Productions of Swartz Creek, Michigan, who did a phenomenal job in the opinion of this writer.
Apparently, a few other folks agree with that assessment as the high bid has already skyrocketed to $78,000, with the auction not due to end until Saturday, Dec. 18 at 2:25 p.m.

A foot-tall stack of receipts shows the level of work done to this car, including a replacement 383 stroker V8 engine with aluminum intake manifold and cylinder heads, along with an aluminum radiator with an electric fan, a Muncie four-speed manual transmission, power steering, and four-wheel disc brakes with cross-drilled rotors and red brake calipers.
The body has been fitted with Z06-style quarter panels before a well-done repaint in a lovely shade of Brandy Wine metallic that contrasts nicely with the black ragtop. While some purists won't be satisfied with the American Racing Torq Thrust II wheels in place of the stock wheels, we think they look great inside the BFGoodrich g-Force Sport Comp2 tires – 215/55 in front and 275/40 in back.

Meanwhile, the quality extends to the well-done interior in immaculate condition, with black leather buckets featuring perforated inserts and contrasting burgundy stitching. The headrests and floor mats also have Stingray scripts, though we wish they were the more historically accurate Sting Ray. The radio and analog clock have been removed, perhaps to stress performance, and we'd either add those back or get some type of emblem or airbrush to fill in the void on the center stack.
Comments have been favorable on Bring a Trailer from on-lookers, including one who posted: "Very, very well done car. Great color. Nice upgrades like the tilt column and leather-wrapped wheel. The widened rear quarters are seamless. The whole car just exudes quality. Nothing not to like here other than some personal choice stuff. While I usually comment on originality, this is a rare one that appeals to me both color, execution, and conservative but tasteful modifications. If this color had been available in 1964, it would have been a winner."

We'd be inclined to agree. How about you? Does this car appeal to you more than a 2022 Stingray for about the same money?

Source:
bringatrailer.com

Related:
Corvettes for Sale: 3800-Mile 1994 Corvette ZR-1 in RHD
Corvettes for Sale: Black 1953/2003 Corvette Commemorative Edition
Corvette for Sale: Duntov Motors Continuation Series 1963 Corvette Grand Sport