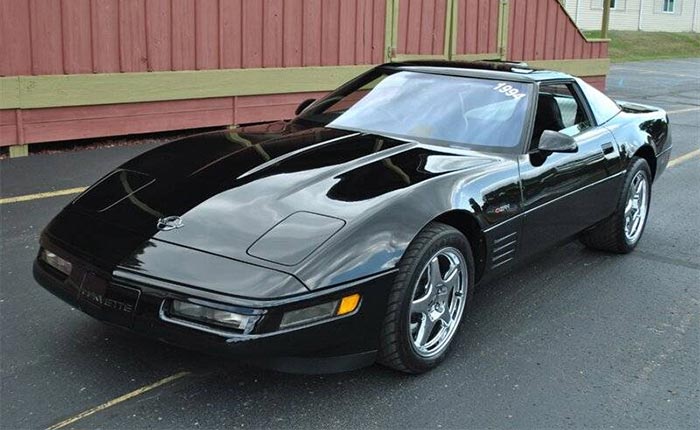 Photo Credit: Sovereign Auto Group

For the first time ever, General Motors is currently offering new right-hand drive Corvettes direct from the Bowling Green factory to customers in overseas markets.
But those cars aren't the first RHD Corvettes.
This black-on-black 1994 Corvette ZR-1 was converted when new to right-hand drive, but instead of being exported to its intended market of Australia, it has remained in a Corvette collection for the past 27 years.

Now, with just 3,800 miles on the odometer, this ZR-1 is being offered on Craigslist for $48,000 by a Michigan dealer, which claims it's currently the only one for sale in the world.
That's still less than half the original cost of the car, which had an initial MSRP of $68,093 not counting more than $30,000 for the RHD conversion.

As you might expect from such low mileage, the car "rides and drives like a new car in every way," the seller says, pointing out its "virtually flawless" interior and exterior, with "no repainting or damage ever."
This Corvette has been stored in a climate-controlled environment since new and represents "a unique opportunity" for the serious collector, the dealer says.

In case you've been under a rock for the past quarter-century, 1994 models featured an exotic Lotus-Chevrolet designed 405-horsepower V8 engine with four overhead cams and 32 valves, assembled by Mercury Marine in Oklahoma and then shipped to Bowling Green for installation into the 448 ZR-1s built that year.

Source:
craigslist.org

Related:
Corvettes for Sale: Black 1953/2003 Corvette Commemorative Edition
Corvette for Sale: Duntov Motors Continuation Series 1963 Corvette Grand Sport
Corvettes for Sale: Doug Fehan's 2020 Corvette Stingray is on Bring a Trailer