This 1956 Corvette restomod is the best of both worlds, you might say.
It offers the timeless looks of a C1 Corvette, yet provides many of the modern mechanical advancements of the past 65 years.
The same family has owned this car for the last 23 years, and after a full frame-off restoration completed in 2012, they've decided to part with their blue and white jewel on Hemmings Auctions. Four bids have reached just $22,000 so far, but with 11 days left in the auction, there's plenty of time for that number to rise.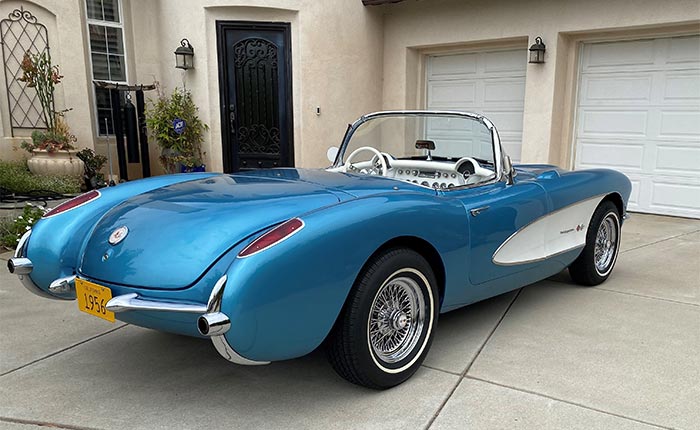 After all, there seems to be little left for a new owner to improve on this trophy-winning Corvette, other than maybe install a working clock.
The original 283 engine, for example, has already been updated with a Chevrolet Performance Fast Burn 385 small-block 350 V8 with a Ram Jet electronic fuel-injected system that copies the look of the original Rochester mechanical fuel injection manifold. Other mechanical updates include a 700R-4 four-speed automatic transmission rebuilt by Bowtie Overdrives that is said to shift "perfectly" – along with an aluminum radiator with an electric fan and a 3.55-geared, Positraction rear axle, with no leaks. Disc brakes and rack-and-pinion steering have also been added.

The exterior of the car is simply beautiful. The paint color was even moved forward a decade with the use of a 1965 Corvette color – a beautiful shade of Nassau Blue with White Pearl coves and accents. Its condition is rated as a "9 out of 10" by the seller, who noted a small scratch on the left rear fender and some paint bubbles on the hood. No ragtop was installed at the time of the restoration, but a complementing hardtop from GlassWorks is included.
The interior is also nicely done, with a single piece of white hide used for the seats, door panels, kick panels, dashboard rails, and trunk. The seats feature custom frames from Glide Enterprises that make them more adjustable and comfortable, and the instruments are restored originals other than a new tachometer. While the clock isn't working, the power windows are operational, and occupants are made more comfortable with a Vintage Air system.

Even though the new owner may not have been present for the restoration, he will be able to look back on extensive documentation that includes two large notebooks filled with receipts, operating manuals, installation guides, more than 500 photos taken during the restoration, and receipts from the past 23 years.
For those people who are afraid they won't like the driving experience of an original C1 Corvette, this updated restomod might be just the answer!

Source:
Hemmings

Related:
Corvettes for Sale: Speedway White Unicorn 2001 Corvette Z06 on Facebook
Corvettes for Sale: Orange/Silver 1974 Corvette with New Upgrades Offered on Craigslist
Corvettes for Sale: 1977 Corvette with an L82 and 4-Speed Manual Offered in Atlanta