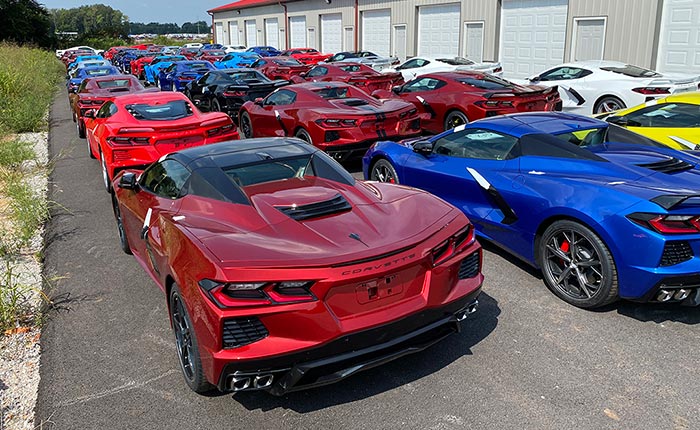 The National Corvette Museum's R8C Museum Delivery Program is a very popular option that allows new Corvette buyers to take delivery of their new Corvettes through the NCM. We've covered some of the perks previously and anyone who has ever done it will usually tell you that it's a once-in-a-lifetime experience.
The program's popularity combined with the NCM's ability to run about 55 R8C deliveries per week means that there is usually a slight delay between when the NCM receives a customer's car from the Corvette Assembly Plant and the time the customer is scheduled to take delivery. So the NCM has been storing the Corvettes waiting for the R8C behind some of the garages at the NCM Motorsports Park.
We've shared a couple walkthroughs of these cars previously, and since we were there on Saturday for the NCM Anniversary show, we decided to offer up our own walkthrough.
Some of the favorites that we picked out included a Red Mist with the Blue interior which is a bold choice in color choices but we think it works. There was a Rapid Blue Stingray with the Orange racing stripes running the length of the car. This was one of the combinations highlighted by the Corvette team when they released the orange stripes at the beginning of Model Year 2021 and it does give the car a bit of a Gulf Oil racing livery feeling. There was an Arctic White Convertible with the Black roof and nacelles with red racing stripes that we point out as well as several Black cars and several other Arctic Whites with body-color trim.
The best thing about a walkthrough like this is that you get to see so many different color combinations so if you are still on the fence about what color your C8 Corvette is going to be, check out the video below and see if that helps in the decision-making process.

Did you have a favorite 2021 Corvette in this walkthrough? Let us know in the comments below.

Related:
Florida Couple Exchanges Wedding Vows Before Taking Delivery of a 2021 Corvette at the Corvette Museum
The National Corvette Museum Delivers Its 14,000th Corvette
The First 2021 Corvette Wearing VIN 001 is Delivered at the National Corvette Museum