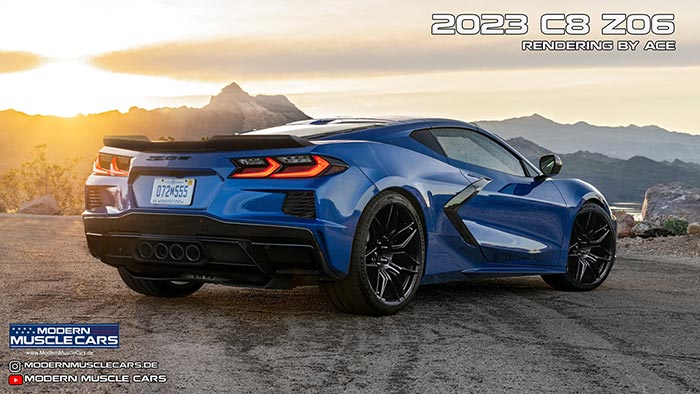 Photo Credit: ACE / modernmusclecars.de

With the C8 Corvettes Z06 now free from their heavy black camouflage, digital artists everywhere have begun to create computer renderings of how they believe the final street version will look like.
Our friend Ace, who hails from Germany and is a member of the Mid-Engine Corvette Forum., created one such graphic and he focused his talents on what we believe will be the base model Z06. He tells us that since all renderings seem to focus on the front of the car, he wanted to make a rendering with the focus from the rear.
His graphics skills are pretty amazing in creating a life-like photo presenting the car in Elkhart Lake Blue with the Carbon Flash black low rear spoiler and black aluminum wheels. And of course, the rear also shows the business end of the mid-engine's LT6 power plant with the Z06's center-mounted quad exhaust tips in black.
We know from the different cars currently testing this week at the Nurburgring that there are some subtle differences between the two different base models spied already, so GM could be holding back the final look until they've fully tested the various characteristics of the car.
Thanks for sharing Ace and we appreciate you allowing us to show off your work here! You can see other examples of his digital creations on his Instagram page.

Source:
MidEngineCorvetteForum.com

Related:
GM Design Team Shares Early Design Sketch of a 1961 Corvette Stingray Concept
[VIDEO] Digital Artist Offers Virtual Look at a Front-Engined C8 Corvette
[VIDEO] C8 Corvette Gets the Hypervette Treatment from Digital Artist hycade