With the C8 Corvette now midway through its sophomore year, there has been no shortage of digital artists utilizing the Stingray's design as a canvas to make it their own. We came across this extreme body kit by @the_hycade on Instagram whose computer animation of the renderings help raise the bar to the next level. There's a lot going on here, but somehow it all works for us!!
The widebody Hypervette shows exactly how the C8 Stingray's design can be a slingshot to more exotic designs. Hycade provides the car with the ability to suck in copious amounts of air from the two large front scoops while a set of twin air intakes are located where the mid-engine's vented hatch would normally be found. The front of the car also has brake cooling ducts while the hood appears to be vented to allow the air to flow from under it.
On the rear is a very complex rear spoiler design that somehow encompasses the Stingray logo both as a top-down look or from the side. Seeing that the first time was a bit of an "a-ha" moment and it was one of the features mentioned most in the video's comments.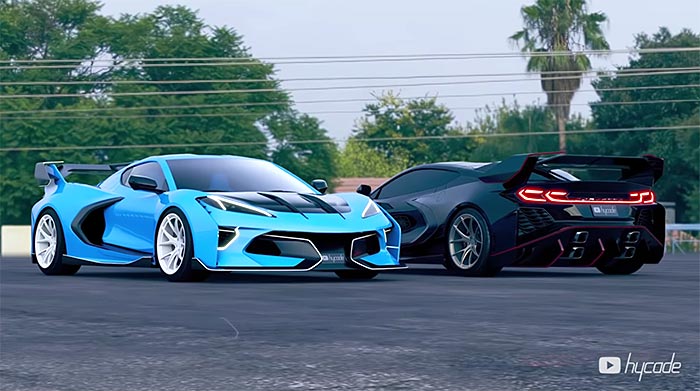 Our key takeaways from the Hypervette were the quad exhaust set-up and we absolutely love the extended lighting from the rear taillights which are now connected. In fact, the whole rear end from the duckbill spoiler down to the triangular diffusers offers a very aggressive attitude. Hycade also makes sure that we can see the body kit renderings in multiple colors with Black, Arctic White, and Rapid Blue all present in the 3-minute video.
From hycade via YouTube:
Ok, this one took way too long! But let me make it up to you… the next one will be the Evo X 🤓 What do you think about the blue one at the end? 😉 Enjoy the video!

Instagram: https://www.instagram.com/the_hycade/​​

Like whay you see here? Let us know in the comments!

Source:
hycade / YouTube

Related:
[PICS] Toyota Designer Shares Render of His 'Electro Stingray'
[PIC] GM Designer's Personal Project 'Neovette' is a C9 Hybrid Grand Tourer
General Motors Design Evokes CERV 5 Name on This Open-Air Chevy Racer