A few months back we were talking with our friends at AEROLARRI about wheels when we heard that it was possible to replace the C8 Corvette Stingray's stock 305 Michelins with those sized at 345 – the same size that is expected on the C8 Corvette Z06 when it arrives next year.
Now we have a video from InShane Designs mounting a set of 345s on a mid-engine Stingray for YouTuber StreetSpeed 717.
We learn in the opening of the video that the Stingray was lowered .7 inches in the rears on the factory coil overs and he is going with 20-inch set-up on both the front and rears. But before the tires are mounted, Shane does a bit more customizing to the Corvette by updating the brake calipers with a fluorescent yellow Corvette Z51 logo that matches the "highlighter" trim on the side rocker panels and rear spoiler.
I'd never seen the use of vinyl wrapping on the front of the brake calipers before and didn't know that was "a thing." But Shane makes it look easy as he shaves and adjusts the wrap around the front of the caliper using an Exacto-blade and a torch.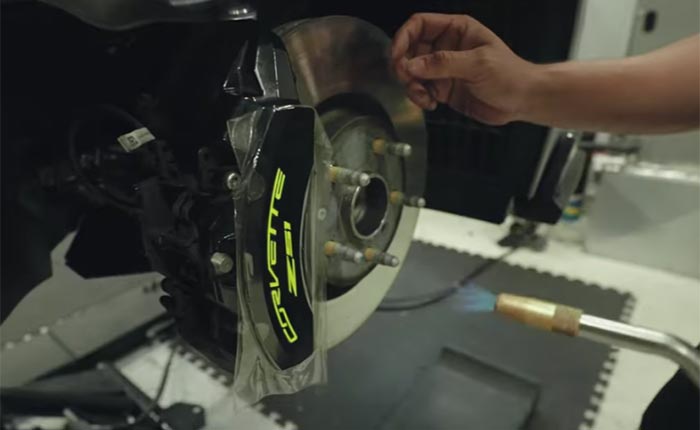 Now it's time for the tires and Shane explains to the camera that the stock tires on the front of the Corvette are 8.5 inches wide and they will be upgraded to a 20-inch wheel that is 10.5 inches wide, while the rear 20-inch stock rear tires will be switched out to Michelin's 345-sized wheels mounted to rims that are 20 x 13.5 inches.
The wheels themselves are the SK13 three-piece forged wheels from Sköl. They feature a textured face with a black chrome lip and from what we can gather, pricing starts around $1,400 per wheel.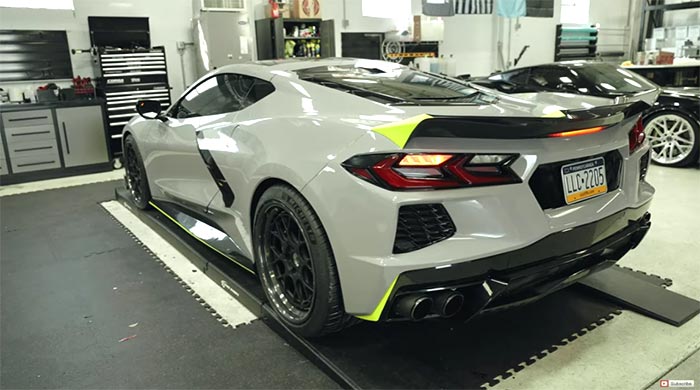 Once the wheels are mounted to the lowered C8 Corvette Stingray, the tires totally fill the wheel wells, but don't stick out further beyond the fenders as you would expect.
We are then treated to some action shots as the wrapped and lowered C8 Corvette is driven on the highway. It's a great-looking Corvette and we highly approve of the customization.

So what are your thoughts on this super-sized wheel install? Let us know in the comment section below!

Source:
InShane Designs / YouTube

Related:
Optional 5DG Pewter Wheel is Going Away for the 2022 Corvette Model Year
Corvette Trivia: How Well Do You Know Your Corvette Wheels?
Will the C8 Corvette Z06 Get Magnesium Alloy Wheels Like the Cadillac V-Series Blackwings?