CorvetteBlogger Readers Save 10% on these C8 Side Skirts with Promo Code CB2021
It's been a few months since we last checked in with our friends at Racing Sport Concepts (RSC), known for delivering one of the most respected line-ups of carbon fiber accessories for the C8 Corvette Stingray. RSC is one of the few brands designing and engineering custom aero components that are not just copies of the OEM 5VM aero package. RSC not only makes custom components such as the previously featured "Ducktail Rear Spoiler", but also offers a full line of carbon fiber replacement parts, to replace the plastic trim on your C8. All of the Racing Sport Concepts OEM replacement parts are 100% carbon fiber and are a true replacement part, with mounting tabs and fastening locations; not just an overlay.
Today, we get our first look at another exclusive carbon fiber accessory that is their new GTC (Grand Touring Corvette) C8 Corvette Side Skirts.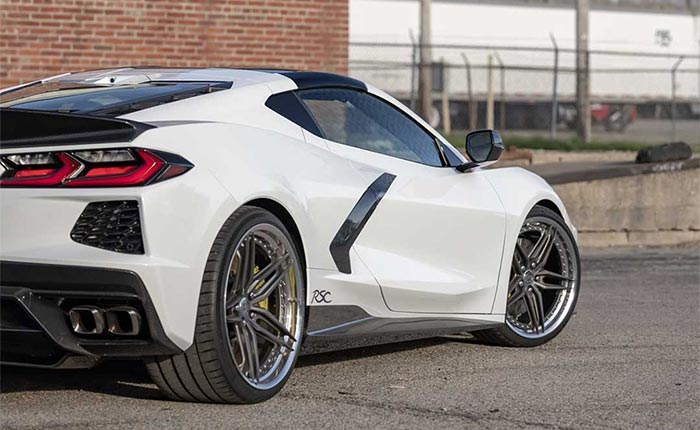 Racing Sport Concepts reimagined the side skirt for the C8 Corvette that is unlike any other we've seen. The design eliminates the side wing or canard that's found on the 5VM side skirts creating a flush-mounted look against the rear quarter panel. RSC's innovative design allows you to re-utilize the factory mounting hardware along with double sided tape, thereby eliminating the need to drill or cut into your rocker panels as with the 5VM style, for example. It's a great look that follows the lines of the car, and we like how it enhances the rear quarter panel's widebody characteristics. The added width along the entire rocker panel creates the benefits of increased downforce and guards against rock chips.
These hand-crafted side skirts are constructed from the finest 100% pre-impregnated carbon fiber, with a beautiful 3K 2×2 twill weave, covered with a deep clear coat finish that offers protection through its UV inhibiting characteristics.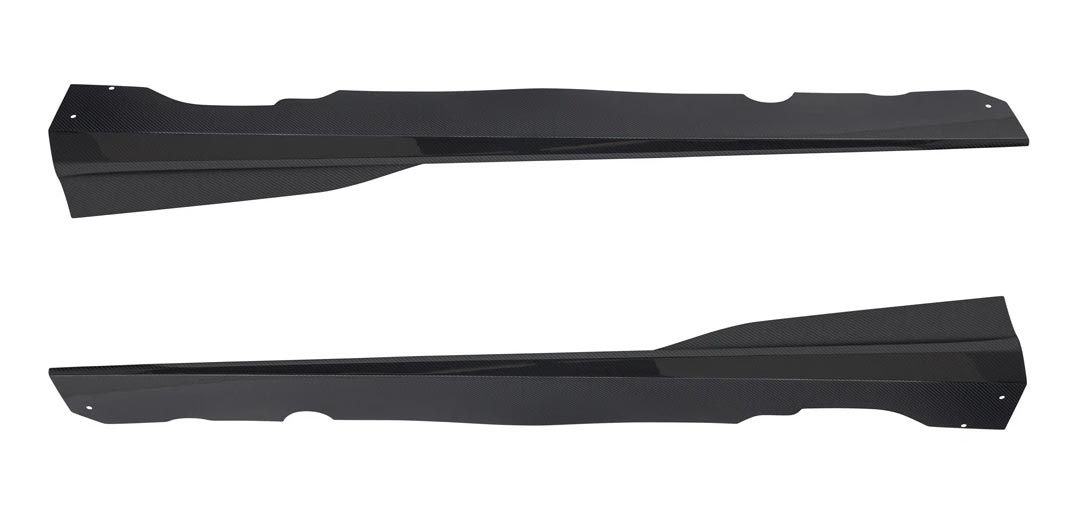 To get the kind of exacting fit that RSC Corvette clients have come to expect, Racing Sport Concepts utilizes ultra-precise laser scanners and 3D CAD engineering to ensure the best fit on the parts they offer. By designing parts from a clean sheet of paper in CAD, RSC is able to 3D print multiple prototypes to ensure perfect fitment and proportions. These CAD files are then used to mill out highly accurate master patterns for their tooling to create a perfect fit, as opposed to splashing molds off of stock parts which can easily warp or lose their shape.

As mentioned, the C8 side skirts do provide aerodynamic benefits and align with the entire RSC GTC Aero Kit, should you be thinking about getting in some track action with your Z51 Stingray. Racing Sport Concepts performed CFD simulations on the side skirt design, which showed increased downforce along the side skirt regions.
Racing Sport Concepts' C8 Corvette Side Skirts are in stock and ready to ship. Offered as a pair for $2,495 plus shipping. CorvetteBlogger readers can save an additional 10% using promo code CB2021 at checkout. The discount code expires on August 16, 2021.
For questions about ordering or installation, or to find out more about the C8 Corvette aero parts and accessories available from Racing Sport Concepts, visit them online at racingsportconcepts.com or call 1-800-815-3751.

Source:
Racing Sport Concepts