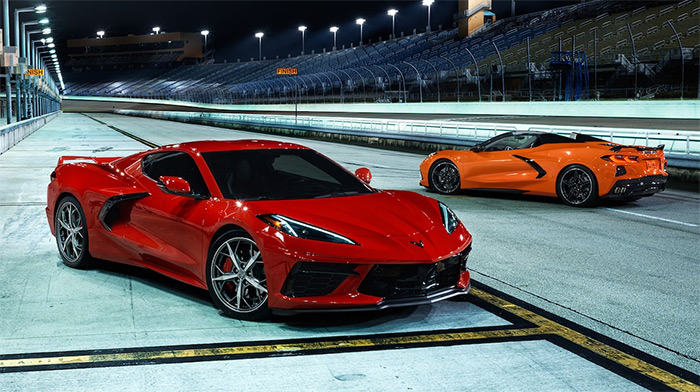 Photo Credit: Chevrolet

We wrote earlier this week that dealers can now start submitting preliminary order requests into the GM workbench order system but that pricing wasn't available yet. Chevy must have heard our call as our friends at the Corvette Action Center are sharing these screens from GM's ordering system that are now showing some pricing for select options.
Unfortunately, the bottom line is that your price for ordering a 2022 Corvette may cost more than the $1,200 increase that Chevy announced last month depending on options and equipment.
Chevrolet had already announced the $1,200 price increase for the three trim levels on the 2022 model year Corvette, and we learned today that it was the trim groups that were raised by $1,000 and the mandatory destination charge of $1,095 was increased by $200, so that's how the 2022 Corvettes are going up by $1,200 for everyone. We wanted to see those numbers so here is how they look. The first price is the current 2021 MSRP that includes the $1,095 destination charge for each trim level and body style with the second number showing the $1,200 price increase:
2021 Price vs 2022 Price with destination fees included
$60,995 – 1LT Coupe – $62,195
$68,295 – 2LT Coupe – $69,495
$72,945 – 3LT Coupe – $74,145
$68,495 – 1LT Convertible – $69,695
$75,295 – 2LT Convertible – $76,495
$79,945 – 3LT Convertible – $81,145
As we read through the order sheets, we note that the Z51 Performance Package has been increased from $5,995 to $6,345. Nearly 70% of Corvettes are ordered with the Z51 Performance Package so this one will be hitting a majority of buyers as well. Another popular option is the E60 Front End Lift. This option is now priced at $2,260, an increase of $860 more than the $1,400 when it was offered on the 2020 model. The Black Trident Wheels have been increased by $100 to $2,995 and the High Wing also saw an increase of $100 to $1,250.
As far as the new content for 2022 goes, there is just the low profile spoiler (TVS) which is offered for $595. While the pricing isn't coming up on the order system, the IMSA GTLM Championship special edition package will add $6,595 to the price of a 3LT Corvette with Z51.
Finally, we note that one option appears to have been discounted. The 5VM ground effects package was initially priced at $4,895 and we now see it priced at $4,445.
Check out these screens below which show the options and pricing based on the 3LT trim package for Coupe. You can see the Convertible pricing sheets here.

Source:
Corvette Action Center

Related:
Ordering is Open for the 2022 Corvette, But There is a Catch…
The 2022 Corvette Order Guide Shows New Carbon Fiber High Wing, Intake Trim
Corvette Chief Engineer Tadge Juechter on the 2022 Corvette LT2 Engine Updates