When this Marina Blue big-block 1966 Corvette Sting Ray convertible was new, it would have been quite the looker.
And with its L72 427/425 horsepower and four-speed manual transmission, this C2 would have been one of the most powerful and quickest cars on the road back then, too. In fact, the car was even raced in the late '60s and '70s.
The years have taken their toll, though, and now this Sting Ray – which has been in South Carolina its whole life – is in desperate need of a total restoration.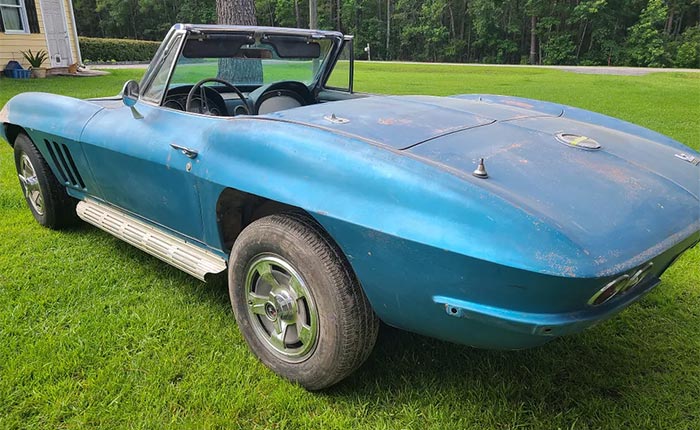 The current owner, just the third in the past 55 years, planned to do just that, but after several years of ownership "time is slipping by" and he just has too many projects to finish this one. So a friend has agreed to help him sell the car on eBay.
So far, with five days left in the auction, 28 bids have reached a peak of $30,000, still failing to reach the reserve, however.
The most notable feature of this Corvette is its big engine, but unfortunately it is now just a bare block with cylinder heads, an intake, an oil pan, and valve covers and will need extensive work to become roadworthy again.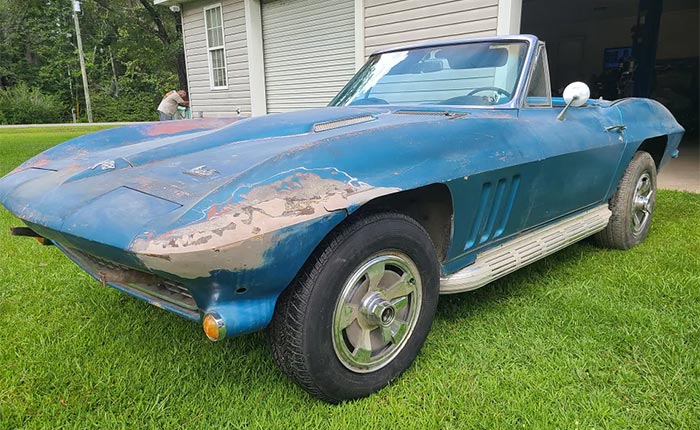 The listing offers several items to support the claim that the car is a true big-block survivor, including its original GM big-block hood, transistorized ignition harness, big-block radiator support (27.5-inch radiator), 80-lb. oil pressure gauge with original steel oil pressure line), 6500 RPM redline tachometer, 7/8 inch diameter front sway bar, rear sway bar, bolt-on U-joint caps on half shafts, left hand hood prop, no radiator overflow expansion tank, correct big-block heater hose bracket on right hand inner fender, and underbody production marking "BB298."
Some of the preliminary restoration work on the car has already been done, including blasting of the "rust free" frame (which has been reassembled for easy transport) and the removable hardtop.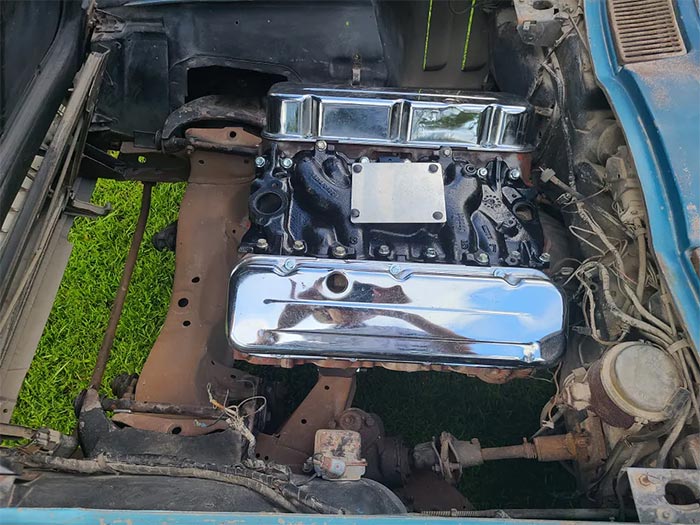 The original dark blue interior is described as "intact" with the original dash gauges and AM/FM radio. A good cleaning might do wonders.
The body, meanwhile, needs some work. The tops of the wheel lips were trimmed on all four corners at some point but would be "an easy fix with press molded repair panels included in the sale," the seller claims. One of the many photos in the listing shows "very slight" damage on the driver's side front fender where the bumper bolts to the body.

All in all, this big-block C2 might just be a diamond in the rough, "a very solid Corvette that could easily be restored to original," at least in the seller's eyes. What do you think?

Source:
eBay Motors

Related:
Corvettes for Sale: 1972 Corvette with 126K Miles
Holy Rolling Fan Art Batman! There's A Bat-Themed C3 Corvette For Sale in Florida
Corvettes for Sale: 1980 Corvette Barn Find Parked in 1991