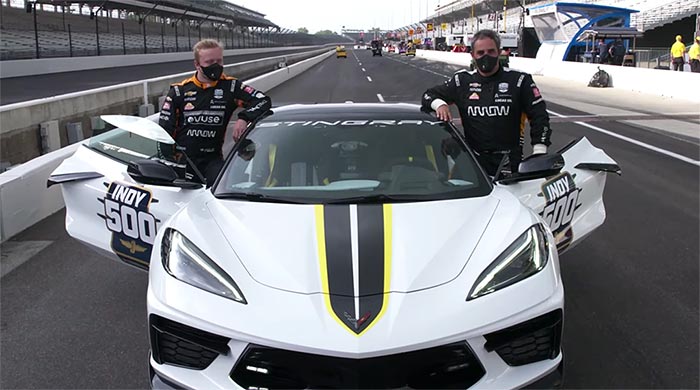 Here's a quick video from Saturday that I just came across today. It's IndyCar drivers Juan Pablo Montoya and Felix Rosenqvist taking a lap of the Indianapolis Motor Speedway in the 2021 Corvette Convertible Pace Car.
We think the setup was that Montoya was going impart some wisdom and share a few tips to Felix about what he's doing in the cockpit of his Indy 500 race cars as they make their way around the track. And while they do discuss some of the track strategies, Juan Pablo can't stop talking about how great the new Corvette is.
Towards the end of the drive, Montoya looks at Felix and says, "I love this car…I better win it," a reference to the tradition of the winning driver taking home a street version of the pace car.
As one of the commenters said, "Haha, they were supposed to talk about the track but they totally geeked out about the car, I LOVE IT!"

Source:
YouTube

Related:
[PICS] Chevrolet Shares Original Renders of the 2021 Corvette Stingray Convertible Indy 500 Pace Car
[PICS] The 2021 Corvette Convertible is the Official Pace Car of the 105th Indianapolis 500
[VIDEO] Take a Lap in the 2021 Corvette Convertible Indy 500 Pace Car with IMS President Doug Boles