The 2021 Corvette Convertible was announced today as the Official Pace Car for the 105th running of the Indianapolis 500. This will be the 18th race that the Corvette has served as the Official Pace Car, the 32nd Chevrolet to lead the field. It's also the first Convertible model to serve as the pace car in more than a decade.
The Stingray is finished in Arctic White with Black Nacelles and a Black roof and it features the Z51 Performance Package with the 5VM aero kit and the High Wing. Black Trident Wheels and Yellow calipers are also installed and a custom racing stripe in black with a yellow outline flows across the top of the car. As is the custom, the unique logo for the 105th Indy 500 is featured on the door while yellow graphic accents appear on the 5VM aero.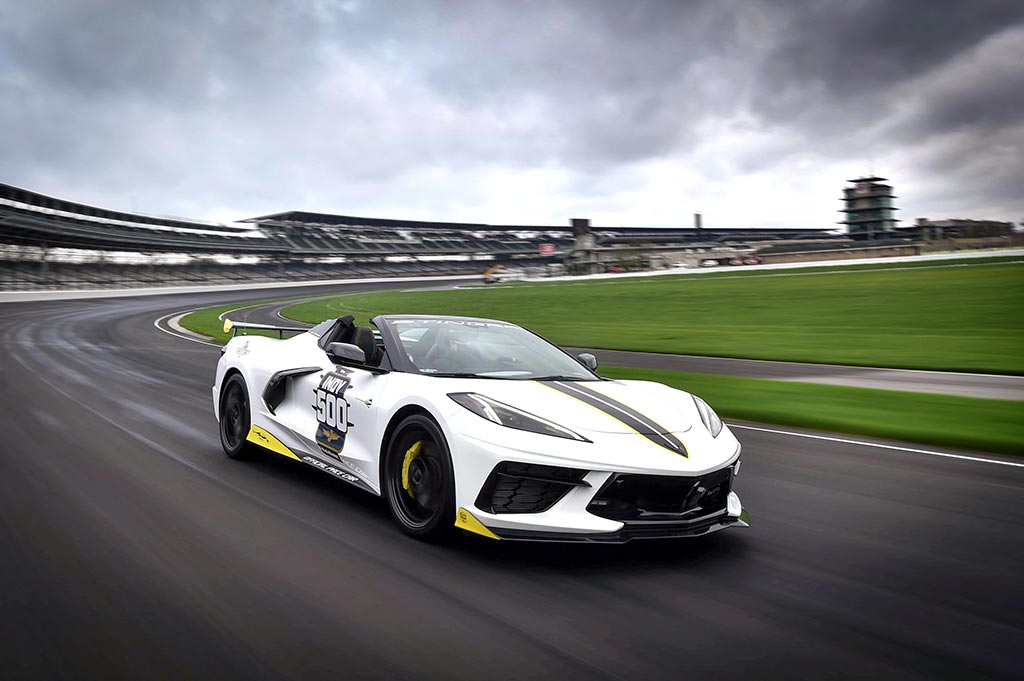 Inside the Corvette St4ingray Convertible is the Strike Yellow / Sky Cool Gray interior with Yellow seatbelts.
As this Corvette provides the very important duty as the safety car, Corvette designers incorporating four lights into each of the nacelles, in addition to strobe lights in the headlights, front louvers and taillights. This maintains the Corvette Convertible's signature silhouette and eliminates need for a traditional lightbar.

"The 2021 Corvette Stingray hardtop convertible is such a world-class performance car that's a perfect match to lead the talented field of 33 drivers to the green flag in 'The Greatest Spectacle in Racing,'" IMS president Doug Boles said in the news release. "We continue to be grateful for our strong, enduring partnership with Chevrolet and its many contributions to the success of our events and the exciting appeal of competition at the Racing Capital of the World."

The Indianapolis 500 will be televised live on NBC with the pre-race show starting at 11 a.m. ET.
Team Chevy and others tweeted these photos out showing some additional details:
🚨PRETTY CAR ALERT 🚨

The big reveal of this year's #Indy500 pace car! This gorgeous Chevy C8 Corvette Stingray. It's the 18th time a corvette will lead the field to green. A very special number for Roger Penske, too.

Unfortunately, they wouldn't give me the keys. pic.twitter.com/UWIkZsYxh1

— Taylor Tannebaum (@TaylorTannebaum) May 11, 2021

Source:
Chevrolet.com

Related:
2020 Corvette Stingray is the Official Pace Car of the 104th Indianapolis 500
[SPIED] The 2021 Corvette 'Stingray R' Graphics Shown at Road America
[PIC] First Look at the C8 Mid-Engine Corvette Wearing a Pace Car Livery