Photo Credits: Sean Starks

If you're a soon-to-be new C8 Corvette owner looking for some ideas on customizing Chevy's mid-engine plastic fantastic, check out these photos and a video from Sean Starks of Rancho Cucamonga, California. Sean got the 2020 Corvette at MSRP from Selman Chevrolet in Orange, CA and immediately set out to make it his own. In fact, his custom vanity plate says just that: MYOWNC8.
We always think that great-looking rides start with the wheels. Avant Garde made a custom set of their AG F338 Mono-forged wheels in a staggered 20/21-inch set-up, and then color-matched them to Sean's Rapid Blue Coupe with Titanium accents. With new wheels comes new Michelin Pilot Sport 4 Tires. On the fronts, the 20X9-inch wheels are wearing tires sized at 255/30ZR20X while the rear wheels are 21X12-inches and fitted with 325/25ZR21X.

As you look at those custom wheels, you will notice the huge R1 Concept brake kit behind them. The big brake kit features 405mm 8-piston calipers with 16-inch rotors in the front and 380mm 6piston calipers with 15-inch rotors in the rear. The kit also accommodates the rear electronic brake which is built into the rear caliper assembly.
Not content with the plastic-looking rear engine compartment surround, Sean took his C8 Corvette to Cool it Window Tint in Upland, CA. where he had the back wrapped in a carbon fiber vinyl which we think provides an exotic look the mid-engine Corvette deserves.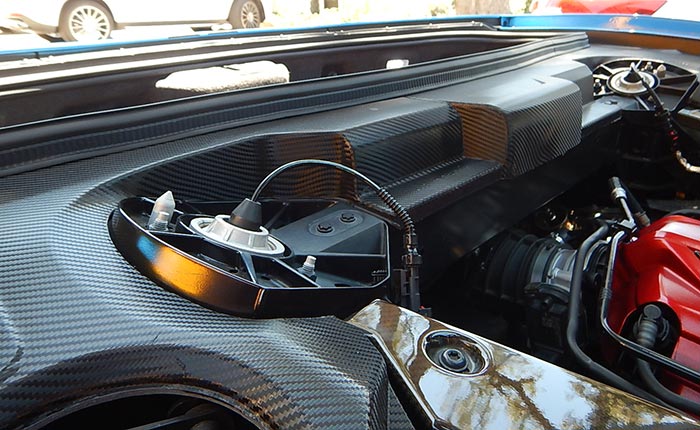 As an early C8 owner, Sean was also able to take advantage of ordering Hennessey's C8 Corvette exhaust which are now sold out. Other enhancements to the Stingray include the 5VM aero kit and a large rear wing from Aerrolarri.
Check out this hype video for his car by R1 Concepts:

Sean's Custom 2020 Corvette:

A big thanks to Sean for sharing your 2020 Corvette customizations with us! Got an interesting story about your Corvette? Let us know and perhaps your Corvette can be featured on RIDES.

Source:
Photos submitted by Sean Starks
Related:
[RIDES] John and Annie's 2020 Corvette Stingray
[RIDES] Steve Stone and His 1963 Corvette Have Traveled 582,000 Miles Together
[RIDES] Rick's 2018 Corvette Stingray Convertible