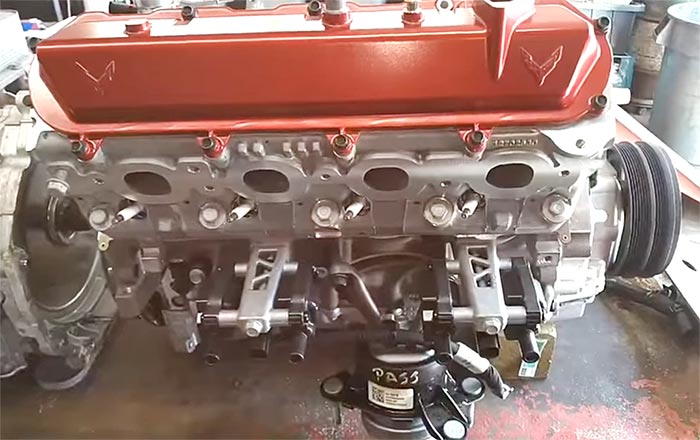 Paul Koerner is a GM World Class Technician working at Key Chevrolet in Middletown, CT and for the past week he has been working on a C8 Corvette with a blown LT2 V8 engine. As Paul has been posting daily updates to his The Corvette Mechanic Facebook page, we thought it would be both fun and educational to follow along as one of the best Corvette techs in the business does a C8 engine swap.
In our last video, Paul had successfully dropped the damaged LT2 V8 from the Sebring Orange Coupe and has since disconnected it from the Tremec dual-clutch transmission.
In today's video, the replacement powerplant is getting dressed and prepped for its return to the engine bay, but first Paul discusses the mating procedure when reconnecting the DCT to the Corvette's engine.

After shooting the video, Paul later shows these photos of the assembled powertrain which is now ready for the new wiring harness. He also cleaned up the subframe assembly and will be reinstalling the powertrain back onto the subframe shortly.

Source:
The Corvette Mechanic / Facebook

Related:
The Corvette Mechanic Paul Koerner Goes to Work on a Grenaded LT2 Corvette Engine
The Corvette Mechanic Paul Koerner Takes a Look at a C8 Corvette's Wiring Harness
Corvette Mechanic Paul Koerner Receives the LT2 Engine Block For His C8 Engine Swap
Corvette Mechanic Paul Koerner Receives a New Intake Manifold for His C8 Engine Swap
The Corvette Mechanic Paul Koerner Studies Up for the C8 Engine Swap
The Corvette Mechanic Paul Koerner Starts the LT2 Engine Removal Process
[VIDEO] The Corvette Mechanic Paul Koerner Successfully Drops the Damaged LT2 V8 Engine