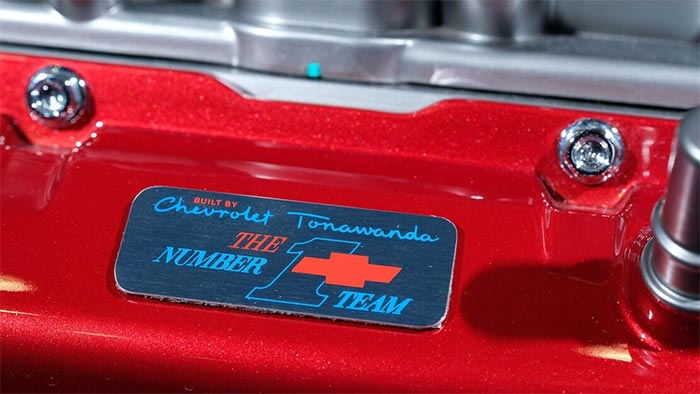 Photo Credit: Chevrolet

One of the retro touches on the C8 Corvettes are those Tonawanda Team #1 badges that are displayed on the driver's side engine rocker cover. Tonawanda is the GM powertrain facility outside of Buffalo, NY that builds the LT2 V8s for the Chevy Corvette and it's a nice way to salute the workers who create the heart of American's favorite sports car.
These were first affixed on Corvette engines beginning in the sixties as a sticker and they famously made a comeback on the 8th generation model after it was decreed by GM North American President Mark Reuss back in 2019. Reuss was preparing for a press conference at the Tonawanda and made the decision about an hour before he was supposed to talk. GM designers jumped at the task and a mock-up was ready in time for that press conference.
There was a slight hiccup in getting badges ready for the 2020 model year, but they were able to work everything out and the Tonawanda badges began being installed on the Corvette engines starting late last year, just in time for the 2021 models.
Photo Credit: Marc NY / MidEngineCorvetteForum.com

Thanks to a member of the MidEngineCorvetteForum.com, we now have the part number should you want to order the badge for your 2020 Corvette. The GM part number is #12707374 and it's priced right around $16 so it appears that it avoids the "Corvette tax."
We did a quick search of several online GM Parts Stores and while the part doesn't appear to be readily available, we did see it listed as a special order on a couple of sites.

Source:
MidEngineCorvetteForum.com

Related:
[PICS] Tonawanda #1 Team Badges Coming to the C8 Corvette for 2021
[PICS] New Tonawanda Pride Badge To Be Featured on the C8 Corvette's LT2 V8 Engine
GM's Tonawanda Powertrain Facility to Build the LT2 V8 for the 2020 Corvette Stingray