It was during a July 2019 press conference that GM North American President Mark Reuss mentioned bringing back the "Tonawanda Pride" stickers for use on the C8 Corvette's LT2 V8 engine. The sticker was prominently featured on Corvette engines back in the 1970s and we agreed with Mark that the badges are a nice way for GM to acknowledge the work of the Tonawanda engine plant on GM's halo car.
But then the production of the 2020 Corvette started, and unfortunately, no Tonawanda badges appeared. We were told there some kind of hiccup with the badges and the whole plan of adding them seemed to be moot.
A member of the MidEngineCorvetteForum.com has offered an update on the status and it appears the Tonawanda badges are a go for the 2021 Corvettes!

MECF member "Marc NY" shares the "great news", as well as offering the reason why they were delayed:
Great news… it appears that the Chevrolet Tonawanda #1 Team badging finally arrives on the C8 Corvette engines for the 2021 MY! The #1 Team badging was to have been on the 2020 MY Corvettes but apparently, there were some issues that prevented that from happening. Rumor has it that the vendor experienced some problems with the adhesive sticking to the edges of badges and made it very difficult to separate them. Then there was much discussion on who was actually going to be putting on the badging, was it going to be the vendor or Tonawanda?

I received some information and apparently, all that has been resolved, and the Tonawanda Engine Assembly workers on Team #9 will be installing the Tonawanda "Pride" badges on the 2021 C8 valve covers.

Mark NY" describes the badges as having "a rigid aluminum backing and is much heavier and thicker than what the original Tonawanda Engine decals were because they were made on a very thin film."
We assume these badges will soon be available to the public through the parts counter so owners of a 2020 model year can also get them as well. We don't have the GM part number yet for it, so we'll add it to our ever-growing list!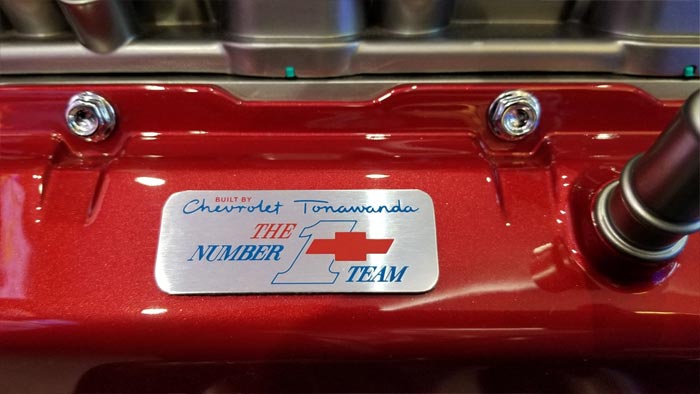 Source:
MidEngineCorvetteForum.com

Related:
[PICS] New Tonawanda Pride Badge To Be Featured on the C8 Corvette's LT2 V8 Engine
GM's Tonawanda Powertrain Facility to Build the LT2 V8 for the 2020 Corvette Stingray
GM Investing $296 Million in Tonawanda for Future V8 Engine Line