We've been telling you about the possibility of a Corvette SUV for years.
Will it happen? Only the occupants of the most exclusive upper reaches of General Motors society know for sure.
In the meantime, enthusiasts are left to speculate and dream wildly, as Carbuzz writer Jake Lingeman does in a post today called "Everything We Know About The Corvette Stingray SUV."
Jake starts out his report by pointing out the success other brands have had with expanding their model lineup – manufacturers like Porsche with its "wildly popular" crossover/SUV Cayenne and Lamborghini with its Urus, now its top seller in its two biggest markets. Others who have spun off a model into a brand, he writes, include Toyota with the Prius, Dodge with the Ram, and Hyundai with Genesis.
Naturally, GM is tight-lipped about any such move with the Corvette, including top officials like President Mark Reuss and VP of Performance Vehicles and Motorsports Jim Campbell.
Campbell repeated the company mantra by noting "I can't say anything one way or the other," while Reuss – a champion of the Corvette – left the door open slightly with "Probably not going to see that."
Probably being the key word.
Reminds us of the "Dumb and Dumber" scene between Lloyd and Mary.
Lloyd: What are the chances of a guy like you and a girl like me… ending up together?
Mary: Not good.
Lloyd: Not good like one in a hundred?
Mary: I'd say more like one in a million.
Lloyd: So you're telling me there's a chance?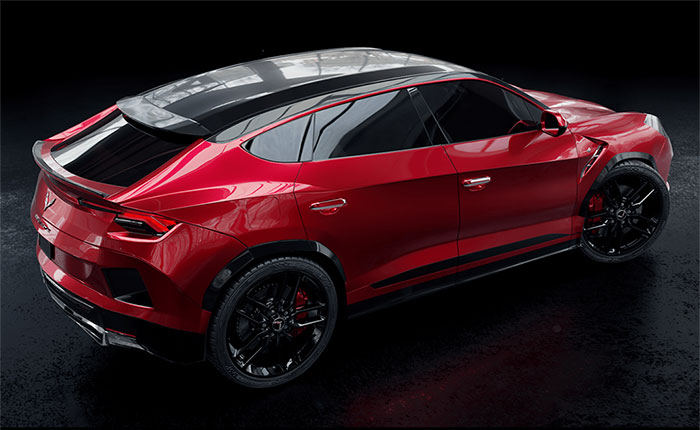 For enthusiasts who would like to see the Corvette swallow up the entire universe with that one-in-a-million chance, there's always hope in the comments expressed by former GM vice chairman Bob Lutz:
"What I would do is develop a dedicated architecture, super lightweight, super-powerful, Porsche Cayenne-like, only much better and a little bigger, medium-volume Corvette SUV. Target worldwide 20,000 to 30,000 units, and price it starting at $100,000. Gorgeous interior. No V6 powertrain. No low-end version. It has to be the stellar premium sport-utility made in the United States, and the Corvette brand could pull that off."
We support Lutz's belief that a Corvette SUV would have to be THE BEST that America can produce. Anything less, and we believe it would be a flop, especially after the mammoth Mickey Mantle homerun that Chevy hit with the C8.
Carbuzz even had an artist dream up a rendering of a possible Corvette SUV, appropriately drawn in a shocking Accelerate Yellow version since electric is obviously the name of the game for future GM products. They even suggest a possible Corvette-rated electric powertrain, saying: "Though we don't know if it would fit, the new Hummer setup has the right numbers. Ranging from 625 hp in the EV2 to 1,000 hp in the EV3X, just throw those Ultium batteries in the floor and get going."
As noted earlier, all this talk is just that, talk.
But, as Carbuzz concludes: "If Ferrari can make an SUV, there's no reason we can't see one from Chevy and Corvette."

Source:
Carbuzz.com

Related:
Does This Sketch from GM Design Studio Represent A Future Corvette SUV?
RUMOR: GM May Be Working on a Corvette-Branded Electric SUV for 2025
[VIDEO] An Electric SUV Concept with Corvette-ish Headlights is Shown During GM's CES Presentation