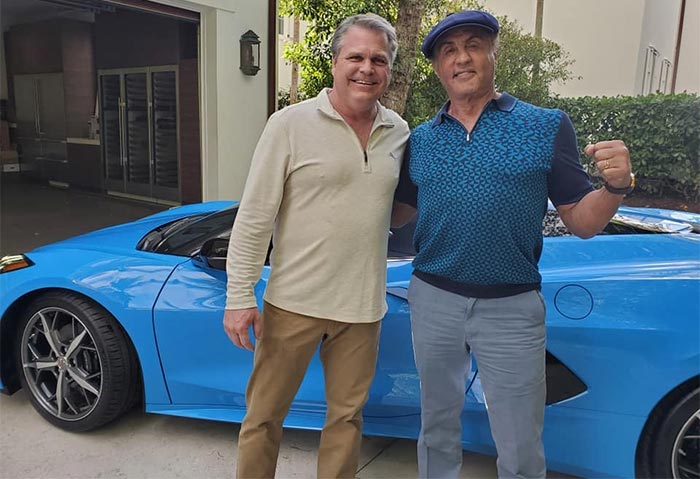 Yo, Adrian, check out my new Corvette!
That line isn't in any of the Rocky movies, but actor Sylvester Stallone might be able to slip it in with an ad-lib after the legendary actor just became the owner of a mid-engine Corvette!
The 74-year-old Hollywood star is all smiles with his Rapid Blue hardtop convertible in a Facebook posting on Saturday by Chevrolet Buick GMC Cadillac of Murfreesboro, Tennessee.
The dealership posted several photos of Stallone after delivering the car to him, including a playful shot with the dealership owner Bo Trivett as they exchange "punches."
"We are extremely proud and honored (and a little star-struck) to be able to say Sylvester Stallone is now one of our customers," Chevrolet Buick GMC Cadillac of Murfreesboro posted. "We sold him this beautiful 2021 C8 Corvette! Here, Owner Bo Trivett and wife Jennifer are delivering him this beautiful car! Thanks for your business, Sly!"
Stallone reportedly has moved to Florida after listing his Beverly Hills, Calfornia mansion for $110 million, and Chevrolet of Murfreesboro delivered the car to him in the Sunshine State.
No other details on the Corvette were available, other than the fact that it includes the 3LT Tension Blue/Twilight Blue leather interior and the optional 19″ front. 20-inch rear 5 Trident-Spoke Machined Face Spectra Gray Painted Aluminum Wheels for $1,495.
This isn't the first Corvette Stallone has owned. Back in 2009, he purchased a custom 510/660 horsepower 1968 Stingray convertible for $198,000 at Barrett-Jackson Las Vegas. He ended up selling the bright red Corvette, which featured exposed headlights, sidepipes, and custom interior, in 2011.

Source:
autoevolution.com

Related:
You Can Be the Champ in Sylvester Stallone's Custom 1968 Corvette
Stallone Cruising in a '68 Corvette Purchased at Barrett-Jackson
2014 Corvette From Mark Wahlberg Movie 'Spencer Confidential' is For Sale on Craigslist