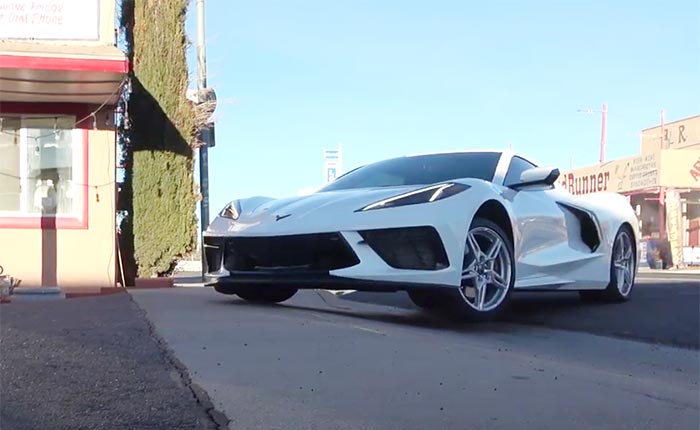 One of the most exciting and helpful options for new C8 Corvette owners is the RPO E60 Front End Lift which is offered as a stand-alone option on C8 Corvettes. With a touch of a button, the front end lifts up several inches to help clear speed bumps, curbs, and other uneven terrains, and you can save that location for future hands-free operation.
YouTuber Roamin' Rich recently shared a video of a C8 Corvette with the E60 Front Lift and his video shows us something we've never seen previously…a three-wheeled entry into a parking lot!
The video shows Rich driving the car and getting ready to pull into a gas station. Hitting the Front Lift button, we see the axles lifted up and then Rich proceeds into the lot at a fairly aggressive angle due to the approach. We see the passenger side of the front splitter clears the approach with only centimeters to spare. But it's the driver's wheel that has us amazed as it's completely lifted off the pavement before touching down again once the car is safely in the parking lot.
Check this out:

So if you have had doubts on whether or not to add the E60 to your future C8 order, this video makes a great case for it. After being offered on the 2020 models for the low price of $1,495, the popular option saw a $500 increase to $1,995 for the 2021 Corvette models. According to some recent documents we saw from Chevrolet, the option is even more popular with an estimated 62% penetration on current 2021 orders.

Source:
Roamin' Rich / YouTube

Related:
[VIDEO] 2020 Corvette Revs Engine and Demonstrates Folding Mirrors and Front End Lift System
[VIDEO] The C8 Corvette's Front End Lift in Action at Kerbeck's East Coast Reveal
What You Need to Know About Adjustable Ride Height, Magnetic Ride, and the E60 Front Lift System