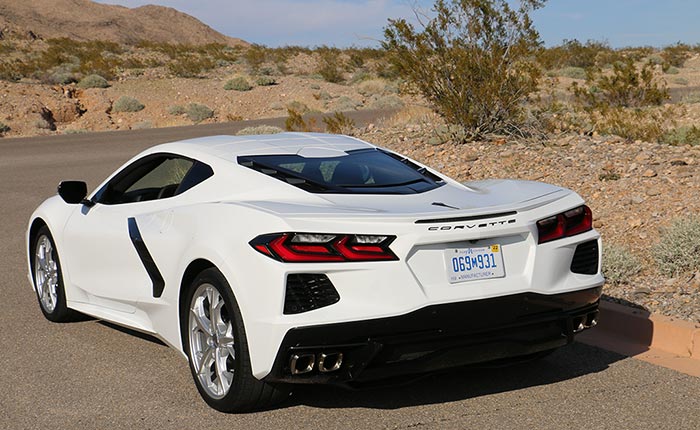 Photo Credit: Keith Cornett

Welcome to another exciting edition of Quick Shifts! Quick Shifts is a content feature here at CorvetteBlogger featuring links to Corvette and automotive-related stories of interest.
FIRST GEAR:
While complaining about the entire year of 2020 seems to be in style right now; from an entertainment (anything that helps you ignore the news for a while) standpoint, we think it was actually a pretty enjoyable rotation around the sun!
Movie theatres didn't contribute much, but there were outstanding sophomore seasons of The Mandalorian and The Boys, The Last Dance (which was far better than any live NBA basketball could have possibly been!), we got college and professional football (almost) in their entirety, and we aren't sure if we can point to more than a couple of two-week periods in the past fifteen months that didn't contain a fresh look at what it is like to live with a mid-engine Corvette.
The latest installment in that magnificent, never-ending parade of new C8 content comes from Motor Trend. We already pointed you in the direction of their 1LT Interior Analysis and now, it is time for its companion piece, the Base 2020 Corvette Evaluation. What do you think? Could you live without Z51 and mag-ride?
Photo Credit: Motor Trend

SECOND GEAR:
For second-gear, we are cueing-up some outstanding second-generation content! Hagerty is all about car enthusiasts. Their specialty within this specialty though has to be their focus on collectors and investors. They posted a Buyer's Guide for 1963 Split-Window Corvettes since the last running of this column, and, in a fun twist, it was done in video form! Even if you aren't in the market at this point, the moving pictures of Sam Smith cruising around in a Tuxedo Black over Saddle example of one of the most beloved vehicles to ever wear the Crossed Flags are worth a click and ten minutes of your time.
If you read the first section of second gear and said that you weren't in the market for a Split-Window for monetary reasons, this slideshow from Road & Track should make you feel better! Three total Corvette pictures (including the lead) grace their list of the 25 cheapest cars that can do 150 MPH. We might not dare to say this out loud, but according to this old Motor Trend write-up, the easiest 'Vette to get into (both physically, and financially) is actually superior to the vaunted mid-year cars in every way that matters. With prices for drivable, 345 HP, 175 MPH C5s starting at under $10 g's, they really are the ultimate performance bargain and an even better way to put a smile on your face every time you get behind the wheel!
Photo Credit: Chevrolet

THIRD GEAR:
There is a cold war going on right now in many car enthusiast communities. Actually, there are probably several, but the one that we are focusing on and the one that we see the most in our comment section takes place between two schools of thought about what a performance vehicle should be. One group wants to ride all of the possible technology and make cars as fast as possible. Group B is more focused on the "EEF Principle," namely they are in it for a unique Experience with high-levels of Engagement that lead to the maximum amount of Fun.
On our site, a lot of this debate kicks up any time we mention the C8's lone (automatic) transmission option or dare to suggest that any of us would personally choose a C7 with a manual over one that shifts for us. This difference of philosophy manifest itself in several great pieces across the automotive corners of the internet this week, and we think they are worth a look. Even though none of them directly involve America's Sports Car, the lessons in each one can be easily applied to our Fantastic and Plastic passion!
First, we are headed back to MT's site for their first test of a 992-Generation Porsche 911 with a clutch pedal and a stick. We aren't jealous of the orthodontists who drive Porsche's most iconic vehicle very often, but the fact that they can still order a three-pedal example of their chosen status-symbol definitely renders us green with envy!
Bonus List for those of you looking elsewhere until the C8 gets its stick back: Every New Car That Still Offers a Manual Transmission from Car and Driver (we suggest a 1LE Camaro!).
Next, we are earning you more frequent visitor miles for R&T with an interesting piece that claims that the "more communicative" BMW M550i xDrive could actually be a better M car than the real M5.
Finally, Lotus, the company founded on the "simplify and add lightness" mantra, could truly be lost after 2021. The UK-based former GM subsidiary is being pushed into electrification by their new owners which will likely make their cars quicker in a straight line, but worse everywhere else. We all know that electric vehicles are heavy, but here is a quick illustration to show exactly how much weight the battery packs add to a car. To equal the weight of the battery pack in Porsche's new plug-in super sedan, the Taycan, Corvette fans would have to combine a 7.0L LS7, a Supercharged 6.2L LT4, AND a 6.2L LS3. The Taycan bat-pack is about 15 pounds lighter than the combined mass of those three Chevrolet V8s, and that doesn't even include the electric motors that receive power from the batteries. This makes it extremely difficult for engineers to extract "sportiness" from an electrified chassis.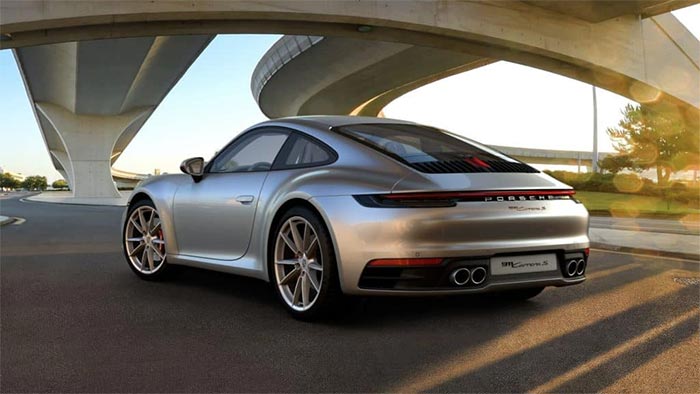 Photo Credit: Porsche

FOURTH GEAR:
We were going to continue with the electric theme in fourth by talking about the CES debuts that sent GM's stock to record heights this week, but a future where Cadillacs are just toaster-shaped pods and you can't even take the controls of your "flying car" is one we would rather leave in the science-fiction section. Things can be so much more enjoyable, here in the present! Case in point: polish up your resume because Oscar Mayer is looking to hire new brand ambassadors to drive around our beautiful country in their fleet of six 27-foot rolling hot dogs! Best of luck to any of our readers who apply and be sure to check in at our various CorvetteBlogger outposts if you are one of the lucky "wieners!"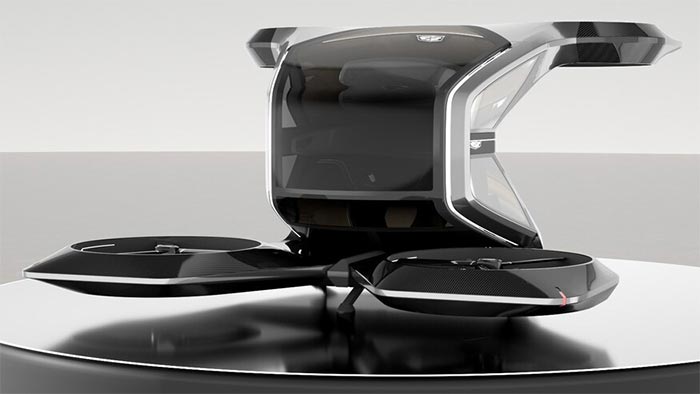 Photo Credit: Cadillac

REVERSE:
The matchup of the year in automotive circles was undoubtedly between the new for 2020 Shelby GT500 and the C8 Corvette. We have shared countless encounters between the 760 HP Mustang and the exotic-proportioned C8 in this very column since both cars hit showrooms last year, but Ford's pony adding a supercharger to encroach on Corvette territory isn't just a recent phenomenon.
For this edition of Reverse, we will send you back to 2006, a more civilized age before anyone cared to keep up with any Kardashians, a time when the word iPhone would have been a typo, and, best of all, social media didn't exist. It is here where we find a classic rumble between the newly released C6 and Shelby 'Stang with the (slightly detuned) heart of the mid-engine GT supercar. Enjoy this look back at a simpler time and have a great weekend, Corvette Nation, we will see you back here on Monday!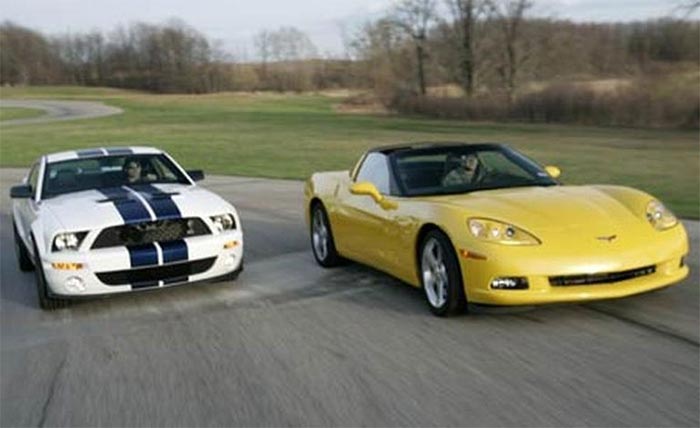 Photo Credit: Jeffrey G. Russell / Car and Driver

Previous Quick Shifts:
C8 Corvette vs 911, GM vs Tesla, GM Rebranded, Blackwings, the Hoff's Personal KITT, and More!
New Years Edition Featuring C8 Corvette Reviews, A Blogger Buys a Camaro, and more!
New Gymkhana, C7 vs C8, 1988 ZR-1 Prototype for Sale, Blackwing News, Remembering General Yeager