Photo Credits: Jeremy Welborn

The National Corvette Museum's 26th Anniversary Celebration is going on this weekend and today featured the Assembly Plant Update with plant manager Kai Spande. At the conclusion of his prepared remarks, we got a surprise as the two new exterior colors for the 2021 Corvette were revealed for the first time.
The new colors, Silver Flare (GSJ) and Red Mist Tintcoat (GPH) are replacing the current colors Long Beach Red and Blade Silver. The new colors were displayed on the C8's rear quarter panels.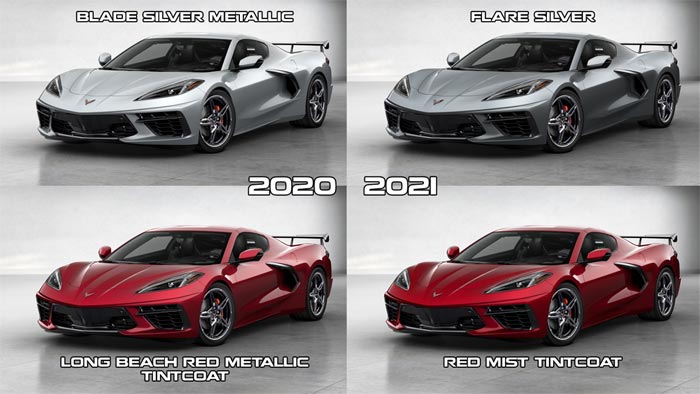 Assistant Plant Manager Nora Roper and Body and Paint Manager Chuck Valentini unveiled each of the panels and then placed them on a display stand while the seminar was still going on. Afterward, they took the panels out to the main hall where there were examples of both a Long Beach Red and Torch Red Corvette for comparison with Red Mist. And after that, they took the panels outside so we can see them under the late afternoon sunshine.
During the presentation, Chuck says that the Silver Flare shows a lot of "travel" in the color which he calls tarnish," meaning that you will see a lot of variations based on the lighting. The Red Mist Metallic is a tintcoat with some orange undertones that provide a greater depth of color. As its a tintcoat, the body of the color is highlighted more. The flake in Red Mist is a smaller, finer metallic that is different than previous metallic colors. Both colors have the capability to show the curves of the car according to Chuck.
Thanks to Jeremy Welborn for supplying us with this video and photos of the new 2021 Corvette exterior colors.

Here is how the new exterior colors looked in various light conditions:

Comparison to Long Beach Red (top) and Torch Red (bottom)

Silver Flare Metallic:

Comparison to Blade Silver:

Source:
Photos and Video by Jeremy Welborn
Related:
Touch-Up Color Chip Provides First Look at the New Red Mist Exterior for 2021 Corvettes
2021 Corvette Options and Two New Colors Leaked
[PICS] But Wait! Here are More 2021 Corvette Options That Were Revealed Today