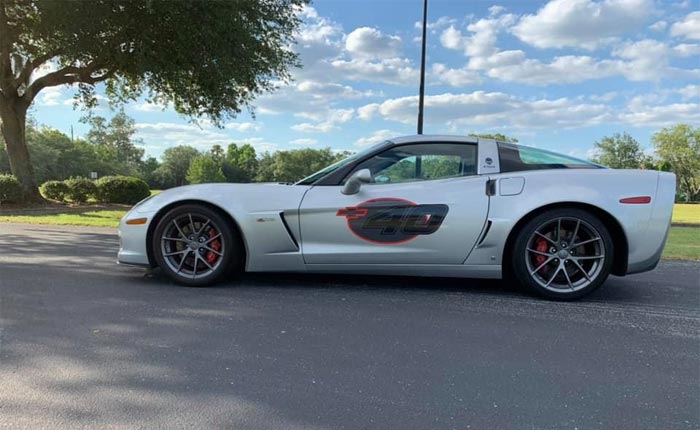 During the mid-2000s, Chevrolet created a number of special editions that were offered with the C6 Corvette Z06. In 2007, it was the Ron Fellows ALMS GT1 that was limited to 399 examples. In 2008, the 427 Limited Edition, also known as the 'Wil Cooksey' edition due to the former plant manager's signature in the console, saw 505 of the Crystal Red Metallic Corvettes built. And in 2009, Chevrolet offered two special editions at the same time – the GT1 Championship Editions of which 55 Z06s were created – and the much rarer 2009 Competition Sport of which only 20 Z06s were made.
The idea for the Competition Sports came from GM designers attending an autocross event. The Competition Sports were offered either as a Z51 Coupe or the Z06 with a 1LT/ILZ package that included equipment that would appeal to those weekend track warriors. The Gray competition wheels helps to hide the brake dust, the car featured a HUD which was unique for a 1LT/1LZ package, and then there is the race-inspired decal featuring the cars sequence that was applied to the doors. Other features include racing pedals, embroidered seats and a unique tech-pattern engine cover.

The Competition Sports were offered in two colors, Blade Silver and Black and just 10 Z06 models were produced in each color.
It's pretty rare when one of these Corvettes come up for sale but we found this one listed out of Daytona Beach on the Facebook Marketplace with a price of $53,995.

This is the No.40 Competition Sport being offered and only has 31,000 miles on the car. So it's a collector car that you can drive. The owner says it has been well taken care of and never raced.
Here are the seller's comments on the car:
This is a special car, GM made 10 in Silver and 10 in Black. The car has a build sheet and window sticker. The car was also supplied by GM a racing number in the build. This is a true collector and the way GM built them without knowledge to the dealers is to me the best part. Never advertised, it was a back door build by GM and will be worth more and more as time passes by. Never raced! Well taken care of and barley used.
The Competition Sport Corvettes were offered during the 2009 model year and then the financial crises hit the country, forcing GM into bankruptcy and seriously limiting the quantities. As special editions go, there aren't many that were offered with that low of a quantity and as a result, these cars have held their values very well.
If a low-quantity special edition Corvette is on your radar, check out this 2009 Competition Sport Corvette Z06 for sale on Facebook.

Source:
Facebook Marketplace

Related:
Found on Facebook: 2012 Corvette ZR1 with 118K Miles Offered for $38,000
Found on Facebook: 1997 Corvette Coupe in Rare Fairway Green
Found On Facebook: Spotting Scam Ads and Rip-Offs