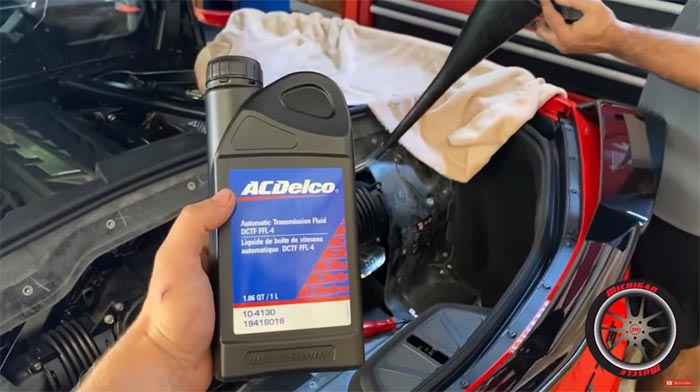 The 2020 Corvette Stingray with the Z51 Performance Package is the preferred set-up for tracking your Corvette and Chevrolet offers an official Preparation Guide to getting your Corvette ready for the track. Along with modifying the tire camber and installing the Z51 rear brake ducts is the recommendation that you add 2 quarts of additional DCT fluid to the car.
We haven't really covered this process yet to date, but we've seen the videos of enthusiasts having to tear down the rear storage compartment and remove the airbox to access the fluid fill point. Getting to that point is apparently a huge pain in the butt, with some 20 bolts to remove plus a variety of clips, fasteners, and other electrical connections.
The father/son duo from the YouTube channel Michigan Muscle have come up with a DIY shortcut to the process that avoids having to tear down the airbox to add the required DCT fluid. Utilizing a rubber hose fitted with a reducer at the end allows you to snake it through the narrow opening so you won't have to remove the entire airbox from the Corvette.
Take a look at this simple set-up and then prepare to make a run to your local auto parts store to duplicate the process:

We found the DIY video after it was posted to the MidEngineCorvetteForum.com and several members say they will be attempting the process themselves. So if your interested, head over to the MECF and jump into the conversation.

Source:
Michigan Muscle / YouTube via MidEngineCorvetteForum.com

Related:
[VIDEO] Give Your Corvette A Race-Inspired Look with this Simple $12 Mod
[VIDEO] Install a Radar Detector in Your C8 Corvette With Power from the Rearview Mirror
[VIDEO] Hennessey Makes Installing Their C8 Corvette Exhaust Upgrade Look Easy