Corvettes have come a long way since 1960 when Corvette Chief Engineer Zora Arkus-Duntov took the CERV I mid-engine test car on 60 runs up Pikes Peak and later drove it over 206 mph at the Milford Proving Grounds. Five years earlier, Arkus-Duntov had driven a camouflaged 1956 prototype sedan up the same mountain in 17 minutes, 24.05 seconds, smashing the sedan class record by more than two minutes and setting the table for all Corvettes that have followed.
Flash forward nearly 60 years, and professional race car driver Robb Holland piloted his 2017 Z06 to the fastest time ever for a Corvette at the Pikes Peak Hill Climb, a remarkable 10:55.166.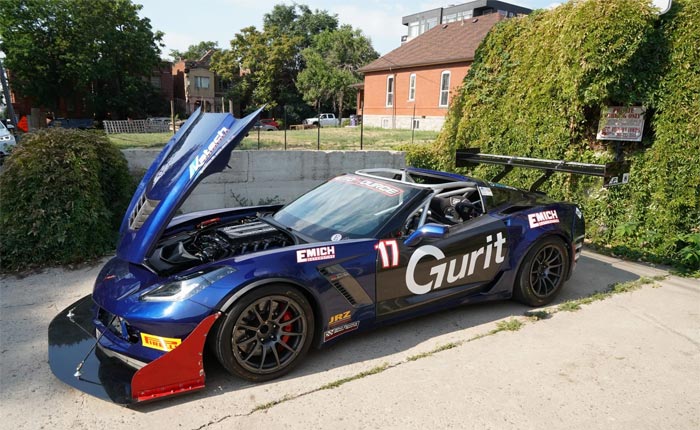 Now, you could become the owner of this Elkhart Lake Blue Metallic 'Vette, which is up for auction on bringatrailer.com through Thursday, Aug. 13. So far, four bids have been placed, upping the offer to $35,000.
This history-making Corvette has definitely seen a lot of action during the scant 750 miles it's been driven.
Just nine miles into its life, the car was deemed a total loss by an insurance company, but Holland saw its potential as a racer and purchased it at a Washington salvage auction in May 2017.

While Holland kept the original supercharged 6.2-liter LT4 V8 engine and eight-speed automatic transmission, he made numerous performance modifications, including an impressive Katech Stage 3 E85 kit that upped horsepower by nearly 100 over stock to a whopping 744. The Katech kit also allows the use of E85 gasoline, which is known for its inherent cooling capabilities, an important factor in the very thin and dry air on Pikes Peak that normally makes it hard to keep engine temps down.
This Z06 now also features:
Gurit pre-impregnated carbon fiber panels, including custom door skins, a rear hatch and splitter, and a massive APR Performance dual element wing on custom carbon mounts,
Custom-mounted shift paddles,
Custom Y-pipe straight-pipe exhaust system,
DeWitts radiator, heat exchanger and oil cooler,
OMP Motorsport HTE-R carbon fiber racing seat,
OMP multi-point harnesses,
OMP quick-release steering wheel,
Cartek fire suppression system,
10-gallon ATL fuel cell mounted under the rear hatch,
18-inch Finspeed wheels on Pirelli P Zero tires,
Roll cage built by 3R Racing,
Suspension mods including four-way JRZ dampers and AMT spherical bearing control arms,
OMP Motorsport HTE-R carbon kill switch and tow straps.

After those extensive modifications, Holland drove the car to a fourth-place finish in the TA1 Class and 17th place overall at the 2017 Pikes Peak International Hill Climb. It's said to have then been used for two dealer-sponsored track days before going into storage. While the seller has performed an inspection prior to the sale, he recommends further sorting before regular use.

You can watch a video showing Holland's run up Pikes Peak, which measures nearly 12.5 miles and features more than 156 turns as the road literally rises into the clouds, with sheer cliffs on either side. It definitely takes a brave person to tackle this Colorado course, which has seen at least seven deaths in the past, including some during practice, one just 20 yards from the finish line, and another after crossing the finish line.
The new owner can read all about the build and subsequent runup the Peak in a story on Jalopnik, along with an analysis by British aerodynamicist Simon McBeath in the August 2018 issue of Racecar Engineering.

Source:
bringatrailer.com

Related:
[VIDEO] Salvage Corvette Z06 is the Fastest Corvette Ever at Pikes Peak
Salvage Title Corvette Z06 Goes for Pikes Peak Glory
Sam Schmidt to Race Semi-Autonomous Corvette Z06 at Pikes Peak