The last three years of the C3 body style don't always get respect from the enthusiast world, but having owned an '80 and an '81, I can tell you from personal experience that while they may be low on horsepower, they're still tons of fun to drive.
Plus who can deny the artistry of that beautiful Coke bottle styling, complemented by the front and rear spoilers molded into the bumpers?
Bringatrailer.com currently has a beautiful red 1981 Corvette being auctioned off, and with under three days to go, the price hasn't exactly exploded on its way to just $5,500. We're hopeful the action will blossom in the coming days because based on the 95 photos included with the listing, there's a lot to love about this third-generation car.

The car was repainted in Peacock Red 10 years ago by the previous owner, and it still appears to look very nice, though we're a little concerned about what appears to be road rash on the front end in one of the photos. The body has also been upgraded at some point with an aftermarket front lip, rear valance, and side skirts, and while we have always loved the look of the stock wheels, we don't have a problem with the 17-inch American Racing wheels that have been added, nor the sporty tread of the 245/45 Zexius Xi326 tires up front and the 275/40 Falken Ziex ZE-502 tires in the rear.
We aren't told much about the mechanical condition of the car, though evidently it has been serviced regularly, including in 2015 the replacement of the steering box and hydraulic lines, water pump, thermostat housing, and valve cover gasket, as well as the installation of a new three-speed automatic transmission and a refurbished rear differential. Mostly recently, an oil and filter change was performed last September. The undercarriage also looks in great condition based on a photo of the car lifted into the air.

Where this Corvette really shines is in the interior, where reupholstered tan leather seats have been installed, along with a JVC CD player, a Kenwood amplifier, and Morel speakers. The instrument panel (with its 85 mph speedometer) and carpet look nice, though it appears that the center console could use some attention on some scratches and scuffs.
The new owner will have a few other problems to take care of, including an air conditioner that doesn't work, along with oil leaks from the engine and the rear main seal.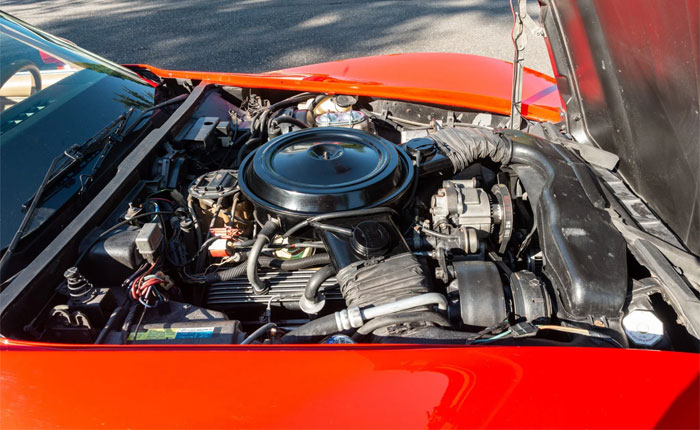 Also included is lots of documentation, including an owner's manual, repair manuals, service records from current ownership, a CD containing photos from the 2010 repaint, and a car cover.
A recent Carfax reveals no accidents or damage has been reported, and the car has spent the past 26 years in the Washington state area.

Source:
bringatrailer.com

Related:
Corvettes for Sale: 1988 Callaway Corvette B2K Twin Turbo on Bring A Trailer
Corvettes for Sale: Non-Original 1966 Corvette on Bring A Trailer
Corvettes for Sale: Two-Owner 1976 Corvette with a 4-Speed Manual on Bring A Trailer