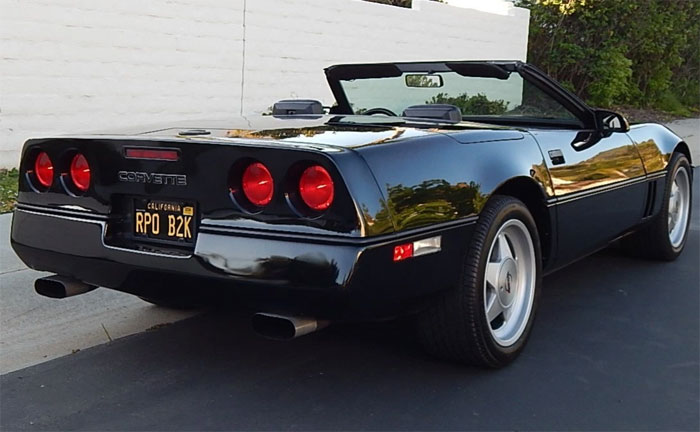 Take a step back into Corvette's glorious past with this 1988 Twin Turbo Callaway Corvette convertible being offered on Bring a Trailer.
With five days left in the auction, the current bid is just $15,250 – quite a ways from the roughly $60,000 price tag the car carried when new.
In its day, the Callaway was "quite simply one of the most powerful automobiles ever certified for sale by the EPA," according to a Car and Driver story from May 1989. "Its turbocharged and intercooled 5.7-liter V8 puts out a staggering 382 horsepower – more power than any U.S.-spec model currently sold by Ferrari or Porsche," the magazine gushed back then. "In fact, we know of only one U.S.-market car that can top the Callaway's formidable power rating: the Lamborghini Countach, which belts out 425 hp."

The Callaway occupies a unique spot in General Motors history, as it's the only time the company has allowed a factory-orderable non-GM performance enhancement on the Corvette.
The Callaway was offered in the C4 from 1987 to 1991, and this black convertible is #91 out of the 125 models produced during the 1988 model year.
A customer could order a Callaway as option RPO B2K from select Chevrolet dealers. The stock cars were assembled as usual at Bowling Green, then shipped to Callaway's facility in Old Lyme, Connecticut.

That's where their crews began major upgrades by first stripping the stock engine down to the bare block, then converting the main-bearing caps to a four-bolt configuration for greater strength. A forged crank with premium rods and special low-compression (7.5:1) pistons from Mahle or Cosworth, and stainless steel intake valves and new valve springs were added for extra durability.
Then came the star of the show, the Callaway turbo system that included new exhaust manifolds, two water-cooled Rotomaster T04 turbos, twin intercoolers, and special ductwork to the hood to funnel air to the intercoolers. Also included: a Callaway Micro-fueler that supplemented the stock fuel injection system, underbody heat shielding, a larger radiator, a new exhaust system, and even a tiny oil pan and a scavenge oil pan just for the low-mounted turbos.
All this extra work didn't come cheap, as the Callaway option added an extra $26,995 to the base price of the car.
But the effort paid big dividends for performance, with the 1988s pumping out 382 horsepower and 562 lb-ft of torque to deliver 0-60 times of 4.4 seconds and an overall top speed of 191 mph.
That doesn't sound as impressive now as it did back then, of course, when the stock '88 delivered just 240 horsepower.

But it was enough to astound Car and Driver back in 1989 when they wrote:
"Little of the standard Corvette's massive low-end torque has been sacrificed to the god of turbocharging. That's a definite plus, because when you floor the throttle it takes the twin turbos quite a while to spin up to full thrust. You're most of the way through second gear before you sense any serious turbo kick. Third, however, feels like you've been rammed from behind by a semi. From there on up the acceleration is so strong that blasting to 150 mph between clots of interstate traffic – and slow down again – is often possible."
Back to the convertible being offered for sale now, though.
The car has been driven an average of about 500 miles a year over the past 32 years by owners in Georgia, Iowa, and currently California, and it's obvious that it's been well taken care of based on the generous number of photos that accompany the listing.
This Callaway comes with a clean Carfax with no accidents and appears to be in excellent condition. It's fitted with the 17-inch Dymag five-spoke wheels inside Goodyear Eagle VR40 tires, as well as Delco-branded Bilstein shocks and silver calipers with vented rotors. The car also has a Doug Nash "4+3" four-speed manual transmission with automatic overdrive on the top three gears.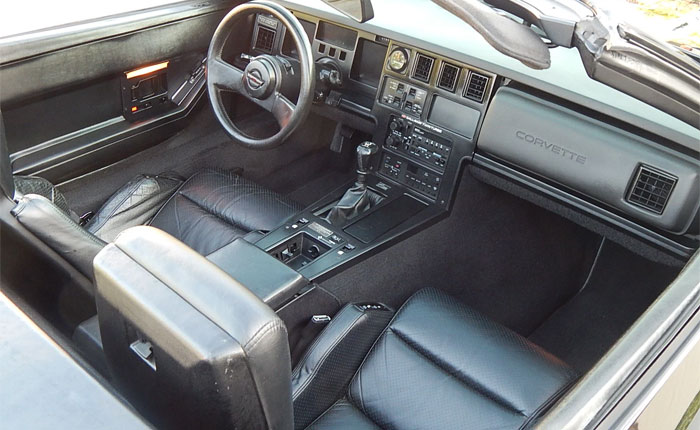 The black interior shows little sign of age, dominated by the leather-trimmed sport bucket seats with six-way power adjustment for both occupants. Of course, the car has the "space-age" instrumentation that debuted with the '84 model, but one interesting addition in place of one of the air conditioning vents is a Callaway boost-pressure gauge. Other equipment includes power windows and locks, automatic climate control, and a Delco Bose cassette stereo.
The seller, who has owned the car for two years, has put about 2,000 miles on the odometer, which shows just under 16,000 miles, and has installed new spark plugs and ignition wires.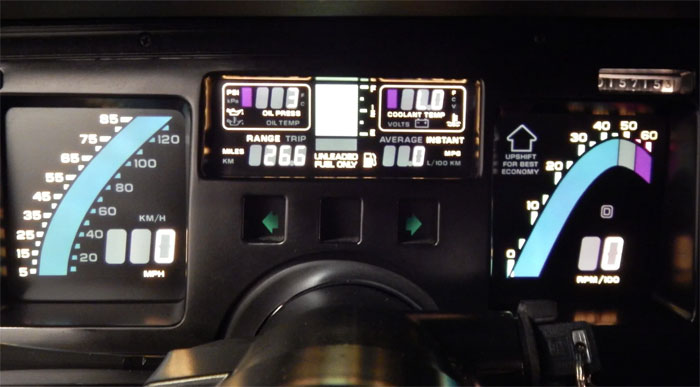 Lest you think an '88 Callaway isn't up to the task in the modern era, check out this quote from a 2018 Road & Track article:
"Before the original Corvette ZR-1 hit production in 1989, Chevy approached legendary tuner Callaway to build a monster Corvette. The result was a twin-turbo machine that's still scary fast 30 years later. The Smoking Tire's Matt Farah just drove a modified 1988 Callaway Twin Turbo, and it's safe to say he had one hell of an experience. Callaway still offers support for these cars—(Farah's) example is further modified with a more aggressive camshaft and an E85 tune making 476 wheel horsepower and 606 lb-ft of torque. But the power delivery is bizarre—peak power arrives at 4200 RPM and the owner suggests shifting at 4800. It's more like a diesel truck engine than something that belongs in a sports car."

Source:
BringATrailer.com

Related:
[AUDIO] Reeves Callaway of Callaway Cars on the Corvette Today Podcast
No Reason to Wait for a Corvette SUV When the Callaway Tahoe Offers Unexpected Performance
Corvettes for Sale: 1993 Callaway 40th Anniversary SuperNatural Convertible #001