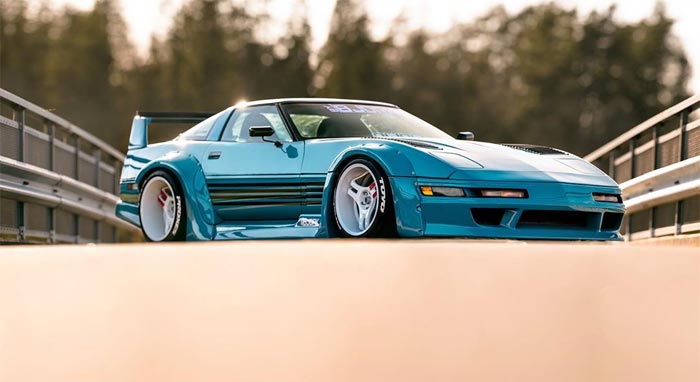 Every once in a while, I go through the stage of wanting another C4 Corvette. Having owned an '86, an '88, and an '89, I realize firsthand these fourth generation 'Vettes aren't the most powerful ever built or the most reliable (remember the newfangled key on the '86 that was supposed to prevent thefts but wound up leaving some owners stranded because the key wouldn't work?).
But they were definitely fun, good-looking cars to have as a young man, with plenty of torque and who can forget about that clamshell front hood that's still about as cool to me as a car can get?
While Smurf Blue isn't usually my first color of choice, this creation done over the winter by the Swedish builder, Jim Björk, might just be the best-looking C4 I've ever seen.

Some purists might decry the big wing on the back, it's reminiscent a little bit to me of the optional high wing spoiler on the new mid-engine Corvette. We think it provides a good balance to the rest of the car that is decked out with add-on fender flares front and back to give a wide-body look without the wide body.
And those huge Toyo tires and deep dish white wheels are the finishing touch. And, did we mention the four black stripes on each side that give it a "Miami Vice" Ferrari Testarossa look?
As the years have rolled past, we've really started to appreciate the round rear-end tail light treatment on the back of the early C4s, as opposed to the rectangular ZR-1 look of the later years.

One final touch: the black grills on the hood just back of the pop-up headlights add a different look to the front end.
So what's your take? Am I just a demented old man living in the '80s who loves this updated look, or is this really the coolest C4 I've ever seen?

Source:
by_bjork / Instagram via AutoEvolution

Related:
How Much Corvette Can You Get with Your Stimulus Check?
[VIDEO] 1990 Indy 500 Festival Corvette Donated to the National Corvette Museum
FULLY VETTED: Learn About History of the 1983 Corvette from the NCM