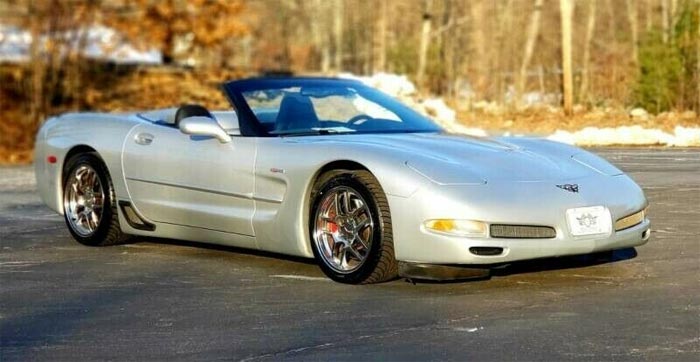 Some enthusiasts have never purchased a C5 Z06 because it left the Bowling Green assembly plant only as a fixed-roof coupe.
No convertibles or removable roof panels for the fifth-generation Z06 were offered by General Motors.
But now an actual 2002 Z06 (confirmed by the VIN, according to the sellers) has been converted into a convertible and is up for sale on eBay at the reasonable "Buy It Now" price of $21,995.

According to the sellers, the car underwent a $13,000 convertible conversion with factory GM equipment performed by a certified GM specialty facility.
They say that every piece used in this conversion is original equipment GM Corvette convertible equipment, adding that "there were only a handful made each year which is what makes this car so special."
This Corvette Z06 features the 405 horsepower LS6 5.7-liter V8 engine, which is "quiet upon cold start without any excess noise … and no ticking or abnormal noises." The six-speed manual transmission "shifts smoothly as it should and the clutch grabs well."

Since new, it's covered 75,000 miles (an average of a little over 4,000 miles a year) and is said to have been driven to and from car shows where it received "many awards."
The sellers note that they have performed a "rigorous" state inspection, including inspecting ball joints, tie rods, brake wear, brake lines, fuel lines, power steering lines, etc., and "everything passed perfectly without being close to needing replacement."
The exterior of this Z06 is said to be "near perfect" with only very minor imperfections all too small to even photograph. The paint has just recently been buffed and shines beautifully, according to the eBay listing, and the car is "ready to drive with pride."

The interior is described as being in "excellent" condition, with only the typical problems noted on C5 interiors, i.e., a flimsy driver's visor on the edge and about an inch of travel in the seat track, though the power function is said to still function properly. Furthermore, the seats are not ripped and have only slight cracking as normal for a car of this age.
It would be nice to have more documentation about the conversion and exactly how the car was changed from the fixed roof to a convertible. All in all, though, we really love the look of this Z06 convertible and it seems to be in better than average condition, based on photos. Sounds like someone is destined to have a lot of fun with this unusual Z06.

Source:
eBay

Related:
Corvettes for Sale: 1953 VIN 087 With Only 5,800 Miles on the Odometer
Corvettes on eBay: 1958 Corvette Fuelie Basement Find
Corvettes on eBay: Black 2020 Corvette Stingray Priced at $119,999