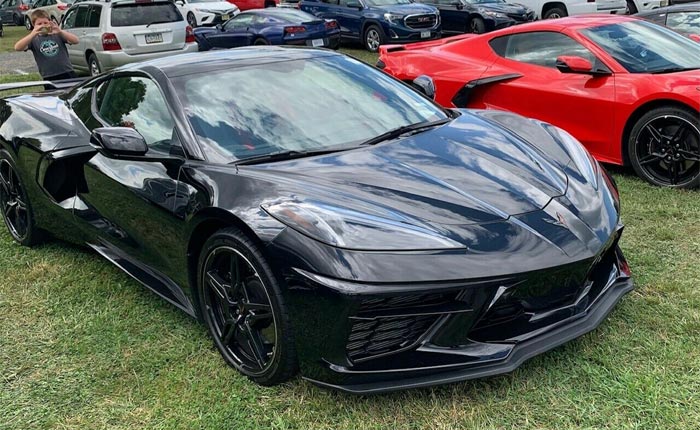 I'll say this about a seller who holds an allocation on a Black 2020 Corvette Stingray…that's one heck of a bold price!
We're a month out from the start of production for the 2020 Corvettes and more than a few have already popped up for sale on eBay. Not by dealers though but by buyers who are attempting to make a buck or two from flipping their allocations, orders, or their spot in line.
Two months ago we saw our first flipper on eBay asking $110,000 for a Z51/1LT Coupe. This new ad takes the audacity to an even higher level: $119,999 for a Black 2LT Z51 Coupe with an MSRP of $82K!
The Black Stingray Coupe is well optioned with the Z51 performance package, NPP Exhaust, Magnetic Ride Control. Inside is the Red leather interior with GT2 seats.
The seller claims a March Build date with the car expected at a Bucks County, PA Chevy Dealership in May/June 2020. Perhaps thinking his price is a little too strong, the seller does feature a "Make Offer" button and leads off his description with the call to make an offer.
Sadly, this is just the beginning of these kinds of ads and there will be those buyers who will need the new Stingray right away. Contrary to popular opinion, the Stingray isn't sold out yet and dealers still have plenty of allocations available. If you can wait, Chevy has pledged to build 40,000 Stingrays although that figure probably changed somewhat with the strike. But once the plant is up and running both shifts, these cars will be available at mostly normal prices.
But if you have to have one as soon as possible, you can always take your money to eBay!

Source:
eBay

Related:
Corvettes on eBay: 2020 Corvette Stingray for $110,000
Official: The 2020 Chevrolet Corvette is Here
Build and Price the 2020 Corvette Stingray Coupe at Chevrolet.com