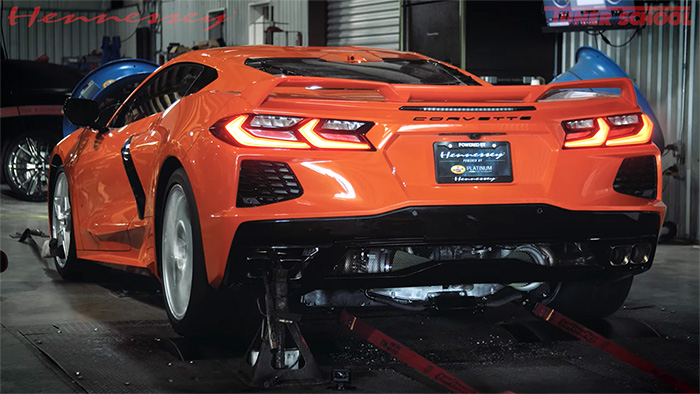 Henessey Performance debuted a twin-turbo setup for the 2020 Corvette that their team installed in record time. We shared their unveiling video on Saturday with a video that offered up a few revs and now Hennessey is back with some actual performance numbers from the dyno.
According to Hennessey, the Sebring Orange Corvette's original baseline dyno test was 466 rwhp and 451 lb-ft of torque. With the twin-turbo system running on a 5 psi boost with the stock ECU tune, the rear wheel horsepower jumped to 643 (+177) and 570 lb-ft of torque (+119).

It will be interesting to see how much performance Hennessey and other tuners will be able to wrangle out of the LT2 V8 without being able to tune the Stingray's ECU which is locked down like we saw with the 2019 Corvette ZR1. The 2020 Corvette Stingray features GM's new global-b electrical architecture that allows the vehicle's various systems to pass high amounts of data while also allowing over-the-air updates, so GM's securing of the vehicles ECU from outside updates will be something that tuners will have to overcome. HP Tuners solved the issue with C7 ZR1 by offering a replacement ECU that could then be adjusted with their tuning tools.
From Hennessey Performance via YouTube:
Dyno testing the world's first (outside of GM) Twin Turbo C8 Corvette built by the Team at Hennessey Performance. Here are the results from running 5 psi boost (stock ECU tune): 643 rear wheel HP & 570 rear wheel lb-ft of Torque. Compared to the stock chassis dyno testing numbers of 466 rear wheel HP & 451 rear wheel lb-ft of torque, the Hennessey twin turbo C8 picked up 177 rear wheel HP & 119 rear wheel Torque over stock. For more information please contact us: 979-885-1300 | http://www.HennesseyPerformance.com

Source:
YouTube

Related:
[VIDEO] Hennessey Shares the Sweet Sounds of the World's First Twin-Turbo C8 Corvette
[VIDEO] John Hennessey Picks Up His 2020 Corvette in Detroit and Drives 1400 Miles to Texas
Hennessey Performance Offers First Look at Packages to Tune the C8 Corvette Up to 1200 HP