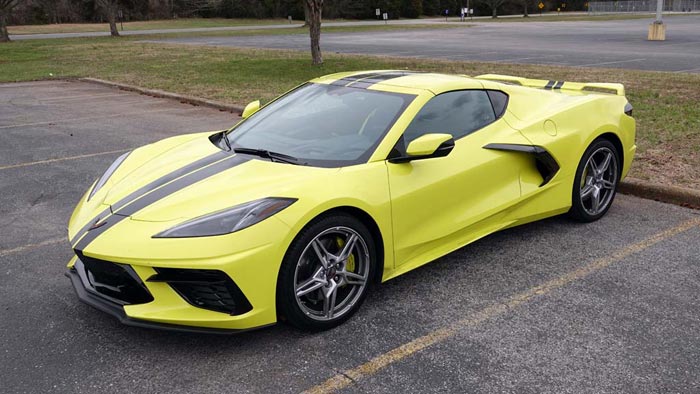 CorvetteBlogger contributor Jeremy Welborn is in Bowling Green this week to take delivery of his 2020 Corvette Stingray at the National Corvette Museum as one of the first R8C deliveries. We'll have more on his delivery this week. But first, he shared with us these two Accelerate Yellow Z51 Coupes.
After arriving in town on Monday, he took a drive over to the assembly plant where he spied these two Accelerate Yellow Corvette Stingrays at the front entrance. As both are wearing the same wheels and have body-colored side mirrors and Z51 spoiler, they make an interesting comparison as one is equipped with a set of full-length racing stripes.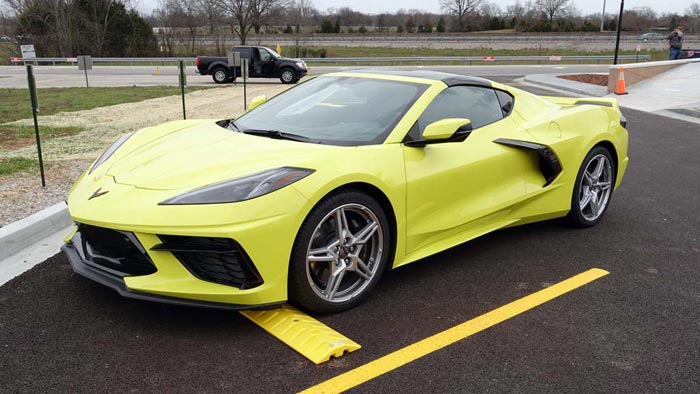 Accelerate Yellow can be very bright, and although these photos weren't taken in full sunshine, they are still pretty loud as a color. I find that the stripes can help "lower the wattage" of Accelerate Yellow so to speak. The stripe kit on the AY appears to be the Carbon Flash Metallic full-length dual racing stripes (RPO DTH) and I find that the other dark stripe kit, the Midnight Gray full-length stripes (DX0) would also look good on Accelerate Yellow.
Whether you are ordering any of the three racing stripe packages or the fender hash mark graphics, rest assured that those are installed by qualified and experienced workers at the assembly plant before the cars are shipped out
Here are a few photos for your Accelerate Yellow fans showing the car with and without the dual racing stripes:

You know we are all about value here at CorvetteBlogger so to here's a bonus photo of third stripe package which is available in Sterling Silver (DUB). Not sure how it would look on an Accelerate Yellow car, but on Black, it's the bomb! Thanks to reader David Perry for sharing this photo that he took at GM's Warren Tech Center.

Source:
Photos by Jeremy Welborn and David Perry
Related:
[VIDEO] Walkaround and Highway Driving Scenes of an Accelerate Yellow 2020 Corvette Stingray
[SPIED] 2020 Corvette In Accelerate Yellow Pays a Visit to…(wait for it) McDonalds!
[SPIED] Accelerate Yellow 2020 Corvette Stingray on the Road in Bowling Green