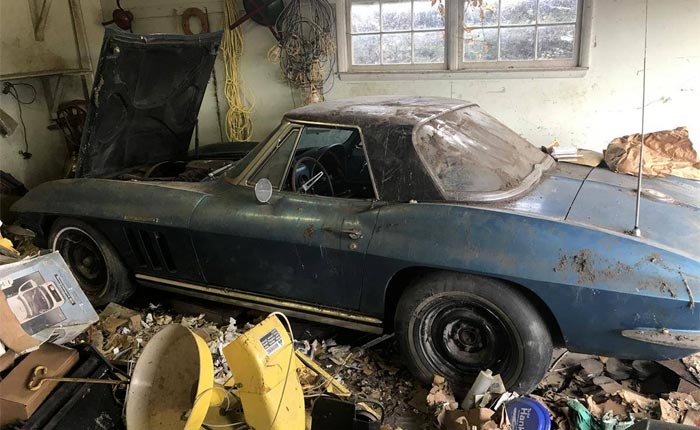 Check out this unbelievable Barn Find featuring a 1965 Corvette Sting Ray Convertible! We first caught these photos on our website of all places over the weekend via Corvette seller Mike Furman and his Sunday delivery post, and have since tracked them back to a Facebook post from an Ohio-based towing company.
Speedy's Towing and Recovery of St Louisville, OH shared these photos of a Nassau Blue 1965 Corvette Convertible that was literally buried under mounds of garbage and debris. The before and after photos say it all!
Once they dug down and cleared the junk away, they were able to roll out a numbers-matching 1965 Corvette with the fuel-injected 327/375 hp V8 engine. According to the Facebook post, the Nassau Blue Sting Ray was parked in the late 1960s and it has just 47,000 miles on the odometer.
From the photos, we see the tires look like they were sitting flat for years, but they hold air and the towing company says the brakes weren't lock up so the car was able to be rolled out of the garage before being winched up on the flatbed.

Usually the story ends there with a new owner having an old Corvette to restore, but this car is now for sale at Phil Stalling Classic Cars in Utica, Ohio:
A TRUE GARAGE FIND TIME CAPSULE with an amazing history and story with it. Maybe you saw the story on Facebook?

1965 Fuel Injected Corvette roadster that's been parked and hidden since 1970!
Original numbers matching car!
ORIGINAL 327 375 H.P. 4 speed!
No Rust in the frame or Birdcage. Original body panels and bonding strips.
The car does not run and this is your opportunity to buy and restore a Very Rare Corvette.
Check out these photos showing the rescue as well as how well the exterior cleaned up!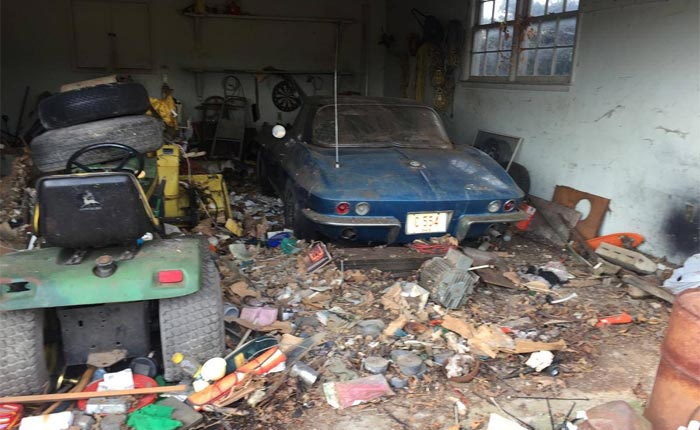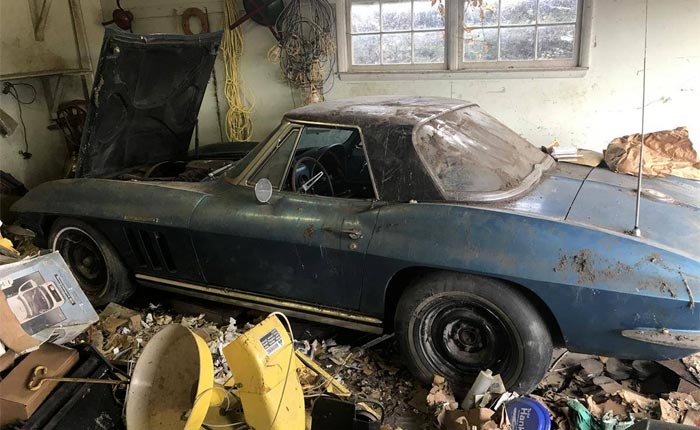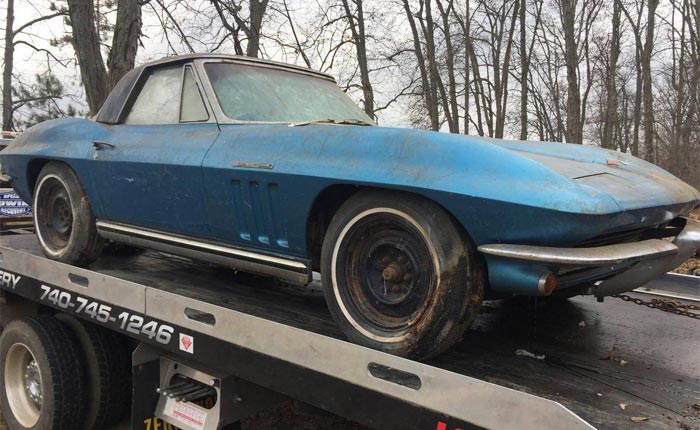 There is no price on the '65 Fuelie Corvette, so if you're interested call Phil Stalling Classic Cars at (740) 745-1147 or check out the listing at Hemmings.com.
UPDATE
The '1965 Corvette Stingray Convertible was listed on eBay for $50,000 which seems to us to be a strong, yet fair price for a complete, non-running '65 Fuelie.

Source:
Facebook and Hemmings.com

Related:
Corvettes on eBay: 1958 Corvette Fuelie Basement Find
Corvettes on eBay: One-Owner 1968 Corvette Convertible Barn Find
Rare 1977 Duntov Turbo Corvette Found in North Carolina