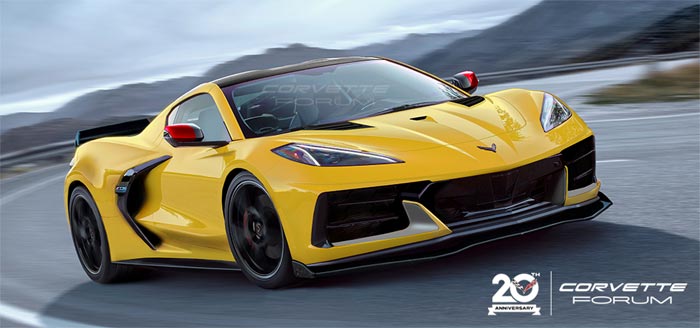 We are still…checks webcam for the 1000th time today…waiting to see when the new C8 Corvette Stingray will be leaving the Corvette Assembly Plant in Bowling Green, and so far nada. So while we wait, let's check out this new rendering of the C8 Corvette Z06 as imagined by our friends at the Corvette Forum.
We are currently in the camp that believes the C8 Z06's design will be closer to the C8.R race car than the C8 Stingray, and we really like several of the design features on this rendering from Corvette Forum artist Pouria Savadkouei. Buyers of the C8 Corvette Z06 will want a design that stands apart from the Stingray sibling and that starts upfront on this rendering with a redesigned fascia that resembles the C8.Rs face. It's sort of a reverse design than the Stingray and that, along with the NACA duct and frunk vents, would provide immediate identification when viewing the car from the front.

As the Z06 is expected to be wider, there is a black-trimmed vent on the front quarter panels. The wider rear end which seems to open up the side scoops even more. The Forum's designer went with a similar shape of the side scoop from the C8.R as well and actually chose to mount the Z06 emblem on the scoop's trim behind the doors.
A larger front splitter helps keep the front of the car balanced while small winglets route the air along the sides of the car and into the dual scoops which provide engine cooling on the upper portion while the lower side scoops feed air to the rear brakes. Flat side rockers run front to rear between the wheel arches and on the rear is a similar C7 Z06 level three rear spoiler with the wickerbill.
Some other design cues from the C8.R includes the exterior paint scheme done in "traditional" Corvette Racing Yellow and featuring aspects of the Silver on the front and rear facias. We really like that…the red covered side mirrors not so much. We know that the Z06 models will have their own wheels and we are hoping these five-spoke carbon fiber wheels recently spied on eBay will make future renderings.

Like our previous C8 Z06 render from gabe.design, this one has a bold yet subtle design that leaves room for Chevrolet's designers to go even further on the ZR1 or the mythical ZORA models that will be coming down the road.
The designer also does a version of the car in Silver with the Yellow highlights so head over to the Corvette Forum and check them out!

Source:
Corvette Forum

Related:
[PIC] C8 Corvette Z06 Rendered
Are These Carbon Fiber C8 Corvette Wheels Destined for the Z06? If So, Why Are They on eBay?
[SPIED] Video Captures the Sound of a Flat-Plane Crank V8 in this C8 Corvette Z06 Prototype